One of the most important aspects of any MSP workflow is how you interact with your customers. Customer interactions through a ticket system will typically have three components that your MSP needs to consider:
Making it easy for a client to contact you
Ensuring you get the details you need to address the issue
Using your tickets as a mechanism for automated follow up
First, it has to be easy for clients to contact you when they have an issue or need a new service. If it's not easy or if your reply isn't timely, you're opening yourself up to the risk that your customer will turn to a competitor. 
37% of customers expect a customer service response within 1 hour.
Next, you want your tickets to include the information you need to address an issue. If it doesn't, that can mean playing telephone tag to find out key details about the problem while the clock is ticking on their issue.
The third way to optimize your customer ticketing system is to include details that can help you with automated follow ups. For example, if the ticket is from a new lead, you could include a "nature of your request" field to automate follow email information to match the inquiry (network, residential, device, etc.).
Syncro's ticketing system is customizable, automated, and powerful. It takes you beyond just the basics of tending to client inquiries with options to help you escalate key tickets, stay organized, and gather the data you need. 
The Basics of Optimizing Your Help Desk with Syncro
Ticket Setup
Syncro gives you options when it comes to how tickets come in. You can use a feature to have emails that are sent to your Syncro Inbound Alias to automatically create tickets if there is enough information.
Syncro also enables the use of an agent contact form through your custom branded system tray icon that can allow customers to send tickets to you straight from their desktop.
When it comes to ticket setup, MSPs typically want to know how to create custom fields. Fields that can be used to collect data that they need, classify requests, and help in identifying a client type.
Some typical custom fields include:
Inquiry type
Additional items with computer (power cord, etc.)
Type of damage to a device (water, dropped, etc.)
You can set up custom fields on your tickets in Syncro by:
Going to Admin > Tickets > Ticket Custom Fields or "Manage Custom Fields" when you create a new ticket.
Click the New Custom Field Type
Add the name for the custom field type (i.e. New Computer Check In)
Click Manage Fields
Click the New Field button
You'll enter the field that you want to capture next.
Select the name of the field and the type (drop down, text field, etc.)
Make the field required or not, or hidden from PDF form or not
Click Create Ticket Field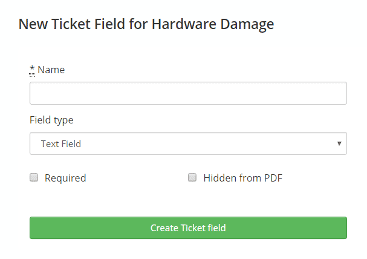 Templates
Creating ticket forms, intake forms, and outtake forms from scratch can be time consuming. The Syncro platform makes it easier by giving you several templates that you can use as your base and then add custom fields as you like.
First, you'll want to ensure you have the types of forms enabled that you want to use. Do this by going to Admin > Tickets > Preferences.
You'll find several types of ticket functions you can enable, including:
Send Diagnosis Reminders: Daily (or Hourly)
Enable Intake Form
Enable Outtake Form
Enable Due Dates
Enable Ticket Assignment
Create Tickets from Leads (if valid)
Enable Ticket Time Tracking Module
Make Custom Fields Required
Once a specific form is enabled, you'll find templates in the Template Customization area of the platform. Get there by going to Admin > PDF/Email Templates.
You can click on any template listed to view and edit it. You'll find:
Invoice Template
Ticket Template
Intake Form Template
Outtake Form Template
Email Templates
SMS Templates
Notifications 
It's important that you get notified if your client sends in a ticket about a critical issue. But if you're working on a job at another client's office, you may not be in front of your computer to see it.
You can set up SMS notifications, as well as notifications via email for any number of client actions, including things like:
Customer reply to an email
Appointment booking
Lead created
New phone call
And many more
Notifications are set up in the Admin > Notification Center area of the Syncro platform. You can find detailed instructions here.
Workflows
Different customer tickets typically go though different types of workflows based upon factors like issue type and priority.
Syncro allows you to set up multiple different ticket workflows to make ticket management easier and take less time.
Here are some of the functions you can include in a ticket workflow:
Customer creation
Ticket creation
Asset creation
Appointment creation 
Invoice creation
The ticket workflow allows you to take the various functions in your business workflow and put them in the order that works for you for a specific customer type.
You can also set up custom default values for fields in your workflow so you're not having to continually type the same ticket subject line throughout the week.
Learn how to set up your time-saving workflows here.
Does Your Ticketing System Allow You Complete Flexibility?
If your ticketing system isn't as flexible as Syncro's, we invite you to see how much better your workflows can be.  
Contact us today to schedule a free demo and 30-day free trial. Call 856-579-6276 or start your trial online.