Ticket workflow defines the day-to-day processes MSPs use to interact with their clients. Getting workflow management right can reduce MTTR (mean time to resolution), minimize manual labor, and improve customer satisfaction.
Getting it wrong can build inefficiency into your processes.
In a world where 37% of customers expect a customer service response within an hour, there's limited margin for error between "good" and "bad."
To help you get it right, in this article, I'll explore how you can optimize ticket and help desk workflow to help keep your MSP profitable and customers happy. While I'll use Syncro to explain some specific examples, the principles apply to MSP ticketing system workflow in general.
How to optimize MSP ticket workflow
Optimizing ticket workflow takes a combination of process, strategy, and data cleanliness. This section will explore tips to help you set your ticketing system up for success.
1/ Make ticket creation the easy path
One of the biggest challenges with working a support ticket is often that there isn't a ticket at all. Clients and technicians are often incentivized to bypass the system to get work done. This is where your processes will make or break your ticket workflow.
A good ticket creation process will:
Make it easy to create support tickets. If ticket creation is tedious, people are less likely to use your ticketing system. Additionally, a time-consuming ticket creation process is wasteful. While a support ticket is important, you should strive to minimize the time it takes to create one.
Not incentivize bypassing the system. If your clients know they can get work done faster if they don't create a ticket, they won't. It's important to have escalation paths, but don't let every client with your phone number bypass creating a ticket for standard requests. Similarly, if your ticketing workflow is tedious for staff, they'll be less likely to create or update support tickets when work items come their way.
Your primary tech support channels will dictate what the simplest ticket creation workflow for your MSP is. For example, if your clients often report problems by email, an email-to-ticket workflow can remove most manual steps from the process.
2/ Capture the right information early
Some of the biggest customer experience challenges with help desk support are clients repeating information and inefficient back-and-forth correspondence. This is particularly true when multiple people handle a ticket (e.g., a dispatcher, Level 1 tech, and Level 2 tech).
Additionally, when you consider variables like billing and service level agreements (SLAs), having quality data early can directly impact your bottom line.
With all that in mind, capturing key details early in the ticket creation process is important. Exactly what those "key details" are depends on context, but common examples include:
The type or category of the ticket (e.g., IT support, hardware request, outage)
Customer contact information
Affected assets
Issue description and details
Priority
Billable or non-billable
Relevant SLAs
Ticket status
Clearly, there's a tension between capturing information and making ticket creation easy. You can get the balancing act right with templates, automation, and emphasizing "just enough" information.
Be sure not to overlook that "just enough" point. When you think about technical troubleshooting, there are a lot of details you might want to capture. The anti-pattern I've seen emerge is teams that create forms that require rarely needed data.
For example, sometimes you must know a user's web browser information to resolve an issue. But in 95% of the cases, you don't. Therefore you shouldn't bother requiring that information. Aim to capture the 20% of data that you'll need to resolve 80% of your issues effectively. The remaining support tickets will likely require additional correspondence anyway.
As well, if you can automatically capture information (like from an RMM integration), use the automation instead of asking a human. Which leads us to…
3/ Automate, automate, automate
Automating ticket workflow solves a lot of help desk problems. With the right automation, you can:
Create tickets with no or minimal human input
Update ticket statuses
Prioritize and categorize tickets
Notify customers and technicians
Populate key information in a ticket
Automatically remediate issues
Leveraging automation makes much of the tedious but necessary work "magically" happen. And that's what makes automation one of the most powerful tools for optimizing ticket workflow. Humans can focus their effort on the tough problems while the workflow mostly takes care of itself.
4 powerful ticket workflow automation best practices
There's a lot of workflow automation you could do. Let's look at three ticket workflow best practices that provide practical examples of what you should do.
1/ Automate notifications while minimizing noise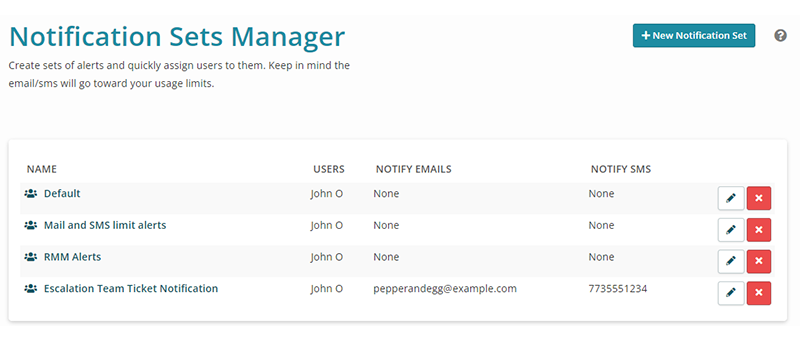 Usually someone needs to know about something related to a ticket. The easy solution to this problem is to send a notification. But not everyone needs a notification about everything. In fact, if you send too many notifications, alert fatigue sets in and people ignore the stuff that matters.
Syncro's Notification Center solves this problem by allowing teams to define granular notification policies. For example, technicians can be notified if an SLA is close to breaching on their ticket, while managers can be notified if an SLA is close to breaching on any ticket.
2/ Automatically assign support tickets.
For a ticket to be quickly resolved, it must get to the right person quickly. In many cases, this requires an intermediary like dispatch or L1 support to be involved. Automation can reduce the need for this intermediary step.
For example, suppose emails related to a specific account should always be assigned to a dedicated rep. Syncro email rules can automate ticket assignment and contact creation to solve this problem.
3/ Auto-escalate or close support tickets that stay unresolved too long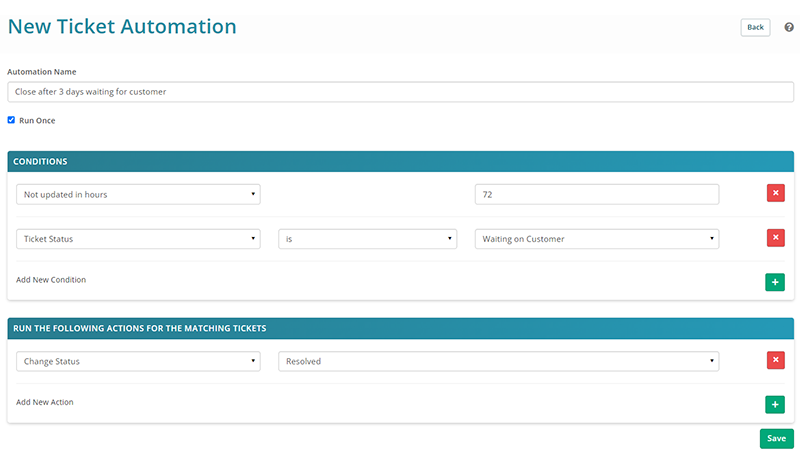 Too many tickets remaining in an unresolved status is a common problem when tickets have to be manually closed. Sometimes tickets stay open because the client got what they needed and never followed back up. In other cases, a ticket should be escalated if it isn't addressed promptly.
With Syncro, ticket automations can help address this challenge. For example, you can automatically change ticket statuses or priorities after a predefined time.
4/ Integrate support tickets with your RMM platform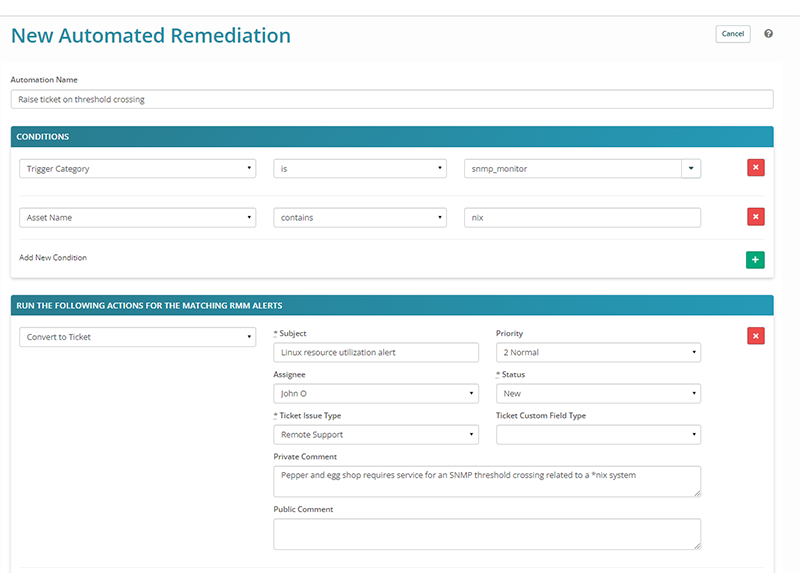 RMM (remote monitoring and management) tools can proactively detect — and even resolve — issues before your clients report them. Integrating RMM alerts and functionality with your ticket workflow helps you become more proactive.
For example, Syncro's Automated Remediation can create tickets based on RMM alerts. Combined with ticket automations, they can automatically close tickets too.
Tips for optimizing existing tickets
When you're starting from scratch, it's relatively easy to think of ways to optimize your ticket workflow management. But in practice, most MSPs already have a backlog of tickets and existing processes they must account for. That can make it difficult to implement everything you want to do. Below are three tips to help you optimize workflows for existing tickets.
1/ Quantify your MTTR

MTTR is an essential help desk workflow metric. If you're taking too long to resolve tickets, you're at risk of hurting client satisfaction.
Quantifying your current MTTR is the first step towards improving it. If you haven't been tracking MTTR before this, chances are there's some dirty data (such as unclosed tickets that are resolved and duplicates) skewing the number a bit.
To help you get started, many ticketing systems give you a way to track how long ticket closure takes, which is an excellent MTTR indicator. For example, Syncro has a default Resolution Time Summary report and robust Internal Report Builder.
2/ Categorize and visualize tickets
In the grind of day-to-day help desk workflow, ticketing systems can get very messy. Categorizing your tickets based on categories like ticket status, priority, customer, and due date can help you identify tickets that have slipped through the cracks and patterns within your workflow management.
For example, old open tickets may be distorting data in your reports. Alternatively, you may find a ticket or two you haven't responded to because of a miscategorization.
3/ Minimize duplicates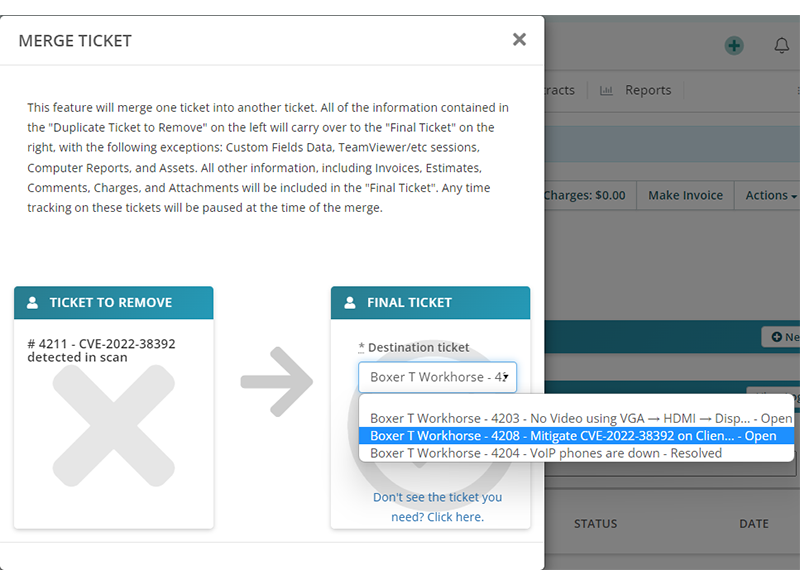 Duplicate tickets are one of the biggest contributors to support ticket "noise." Merging duplicates is a great way to optimize the quality of your existing tickets.
For example, if one of your clients experiences an outage, there's a good chance you'll see multiple tickets created for the same problem. If each ticket gets worked separately, it's inefficient for you and your clients. Effective queue triage and merging tickets can help reduce duplication.
A crash course on defining ticket system workflow with Syncro
Syncro combines RMM, PSA (professional services automation), and ticketing into a complete MSP platform. The convergence of features makes it easier for MSPs to automate processes, including their ticket workflow.
To help you get started, here's a crash course on defining ticketing system workflow in Syncro that ties in some of the best practices and productivity hacks we discussed above.
Setting up tickets with custom fields
Syncro gives you options when it comes to how tickets come in. You can have emails sent to your Syncro Inbound Alias to automatically create tickets if there's enough information.
Syncro also enables an agent contact form through your custom branded system tray icon that allows customers to send tickets to you straight from their desktop.
Regarding ticket setup, MSPs often need to create custom fields to optimize data quality. Fields collect data that helps classify requests.
Popular custom fields include:
Inquiry type
Additional items with computer (e.g., power cord)
Type of damage to a device (e.g., water, dropped)
You can set up custom fields on your tickets in Syncro by with these steps:
Navigate to Admin > Tickets > Ticket Custom Fields or Manage Custom Fields when you create a new ticket.

Click New Custom Field Type.

Add the name for the custom field type (e.g., New Computer Check In), then click Create Custom Field.

In the Custom Field Types table, click Manage Fields next to the newly created field type.

Click New Field.

Input the field data, then click Create Ticket Field.

Streamline data entry with templates
Creating ticket forms, intake forms, and outtake forms from scratch can be time consuming. The Syncro platform makes it easier by giving you several templates you can use as a base, which you can then add to with custom fields where needed.
First, make you've enabled the forms you need at Admin > Tickets > Preferences. You'll find several types of ticket functions you can enable.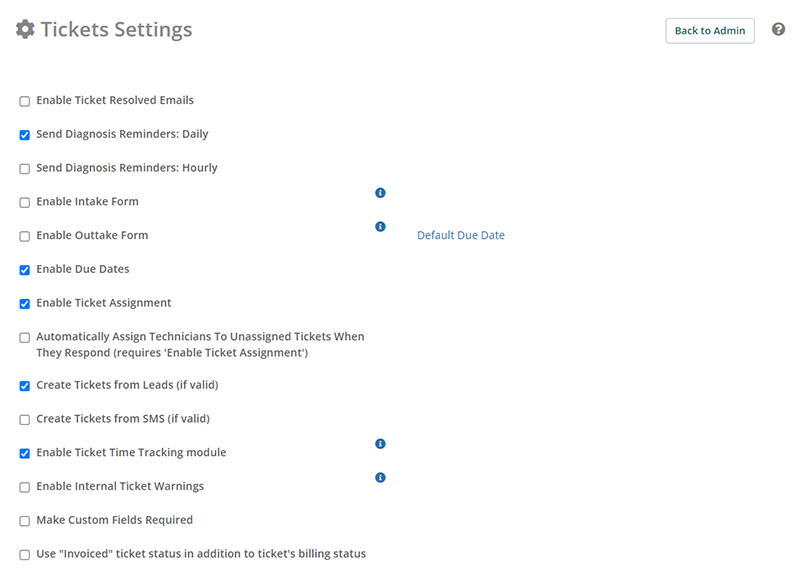 Once a specific form is enabled, you'll find templates in Template Customization at Admin > Syncro Administration > PDF/Email Templates.
You can click on any template listed to view and edit it. Template tags enable variable expansion to pull data from the platform into your templates.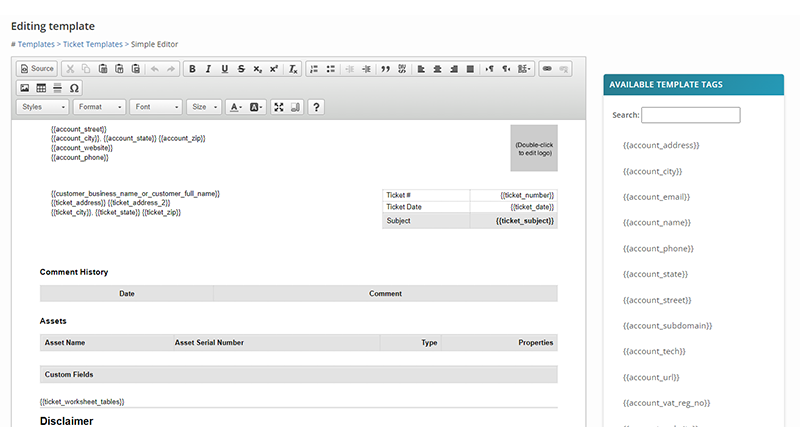 Configuring notifications
It's important you get notified if your client sends in a ticket about a critical issue. But if you're working on a job at another client's office, you may not be in front of your computer to see it.
You can set up email, SMS, app, and push notifications for various actions, including:
Customer reply to an email
Appointment booking
Lead created
New phone call
You can configure notifications in the Syncro Notification Center at Admin > Syncro Administration > Notification Center. Check out the Notification Center Overview for a deeper dive into Notification Center.
Defining ticket workflows
Different customer tickets typically go through different workflows based on factors like issue type and priority.
Syncro allows you to set up multiple ticket workflows to simplify ticket management and take less time.
Here are some of the functions you can include in a ticket workflow:
Customer creation
Ticket creation
Asset creation
Appointment creation
Invoice creation
The ticket workflow allows you to take the various functions in your business workflow and order them for a specific use case.
You can also set up custom default values for fields in your workflow so you don't have to repeatedly type the same ticket subject line.
You can access Syncro Ticket Workflows at Admin > Tickets > Workflows. The Ticket Workflows knowledge base article has a deeper dive into workflows.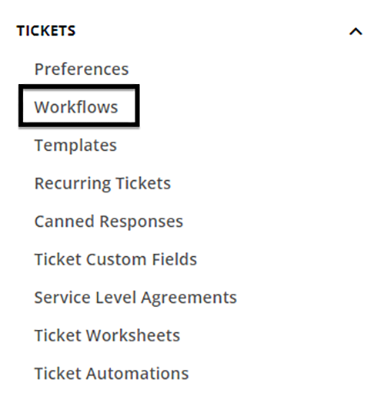 Does your ticketing system provide complete flexibility?
If you're an MSP looking for a ticketing system that provides the flexibility and automation needed to meaningfully reduce MTTR and manual labor, take a look at Syncro. Start your free trial today.