PSA Software for MSPs
Gain ultimate control of your business with hyper flexible, customizable, full-featured PSA software. When your PSA tool and RMM tool are completely interconnected, you can serve your clients, and operate your business more efficiently. You will never go back!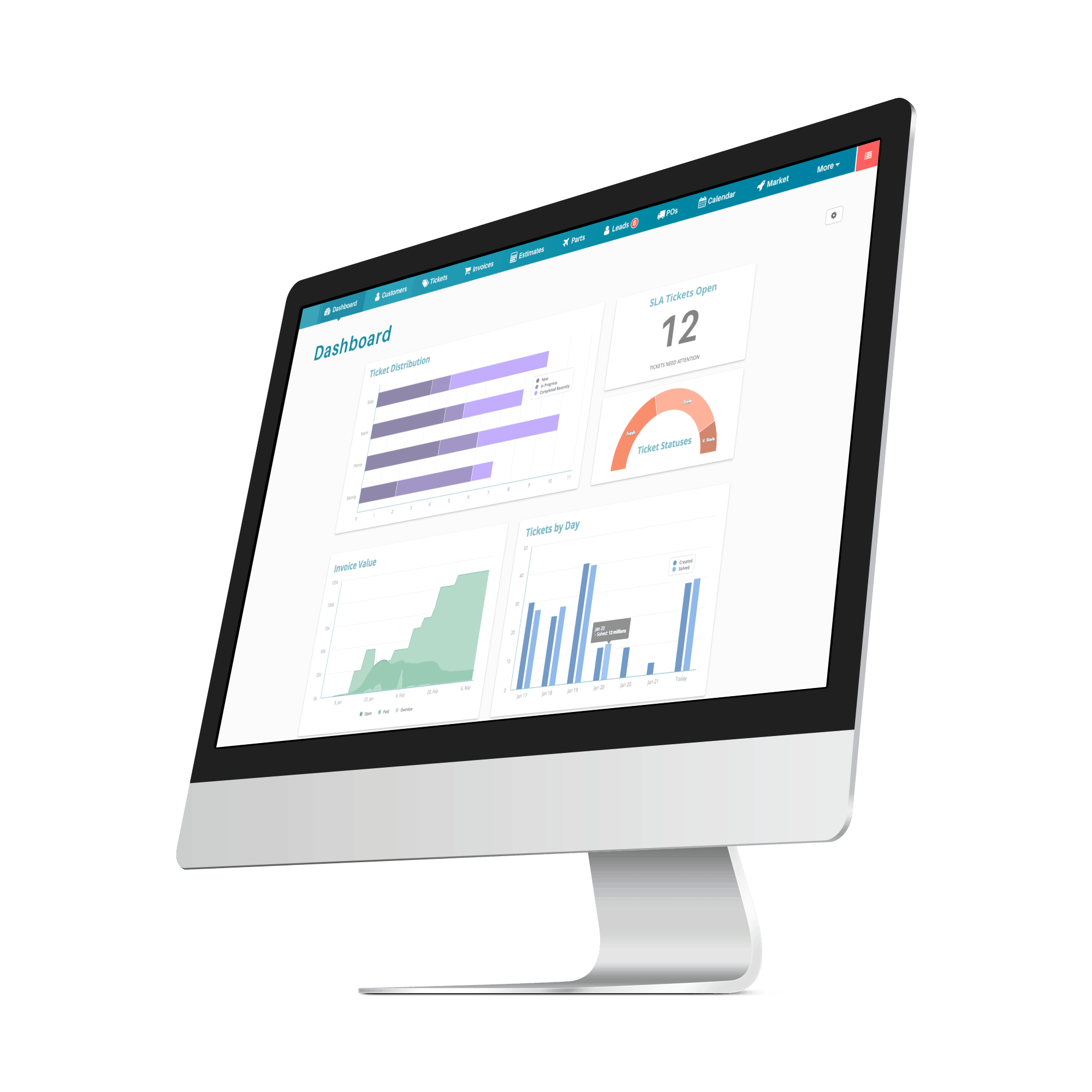 Ease Meets Control
How can professional services automation software help with your business?
Seamless Experience
Work is easier when key information – from Customers to Ticketing, Estimates and Invoices, Billing, Marketing, and Reporting – are integrated and in sync.
Full-Powered PSA
Ticketing? Check. Integrated Estimates, Invoicing, and Billing? Check. Marketing and Reporting? Check. If an MSP needs it, Syncro's PSA has it.
Tools to Drive Growth
With built-in marketing tools, lead generator widgets, and powerful reporting, it will be easier than ever to generate repeat and new business.
Actionable Insights
Data points on their own aren't compelling. Turn data into actionable insight with intelligent built-in reporting and powerful Business Intelligence upgrades powered by DOMO.
What is Professional Services Automation Software?
Greater efficiency and management abilities for organizations of all sizes. Professional Services Automation (PSA) helps organizations manage time tracking, contracts, project management, invoicing and billing and more with greater overall efficiency, lower overhead costs and faster growth.
Customer Relationship Management (CRM)
Syncro's CRM capabilities allow you to service customer needs effectively. Integrated ticketing, monitoring, management and billing all come together to provide you with a streamlined and effective platform for getting the job done and delighting your clients in the process.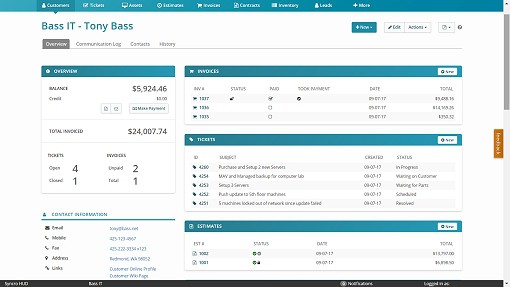 Integrated Billing
Streamline your billing cycle with a truly end-to-end payment workflow. Turn estimates into invoices and accept payment online with the help of Recurring Invoices and Prepaid Billing. Charge customers easily with automatic billing and online credit card payment. Integrate with best-in-class payment vendors such as Vantiv and more.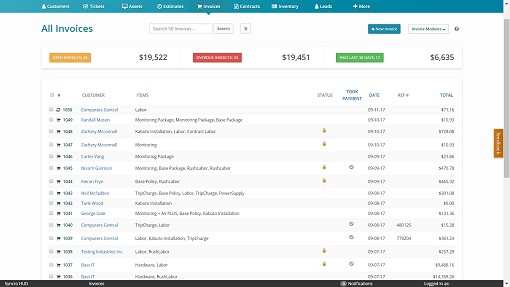 Help Desk
Need help with your customer support system? Syncro's ticketing system lets you go beyond just tending to client inquiries and enables you to stay organized and escalate key tickets properly. With Syncro, you can keep an open line of communication with your client and perform invoicing and billing straight from within a ticket.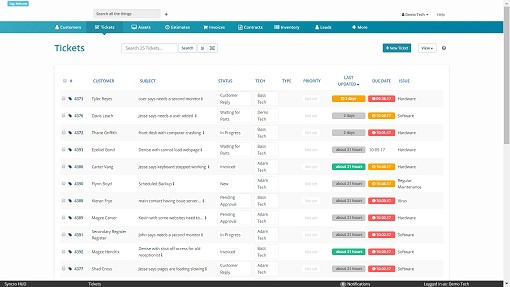 Reporting and Analytics
Turn data points into actionable insights with best-in-class reporting designed specifically for MSPs. Monitor, track and analyze ROI by Service, Common Device Issues, Detected Threats and more from a centralized MSP Dashboard, along with detailed reports.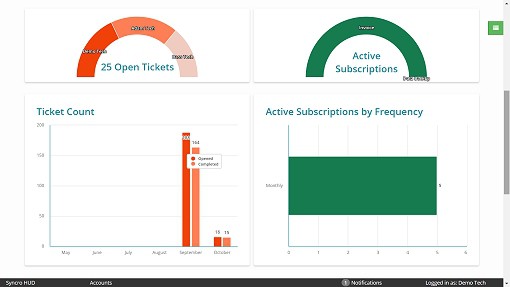 Ready to Experience an All-In-One MSP Platform?
Asset Management
Know the status of assets, set individual and bulk preferences for assets, track customer facing documentation, and set/manage customer passwords.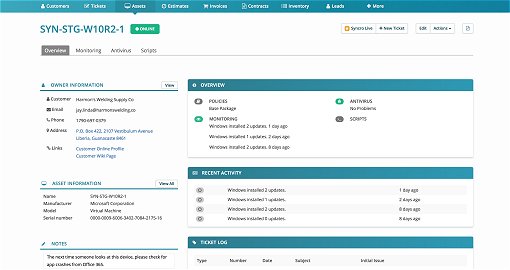 Inventory Management
Manage your device and parts supplies with ease. Automatically order out-of-stock inventory and assign inventory to customers for work orders, which is essential in resource planning. Utilize an integrated system to ensure your clients have what they need, when they need it.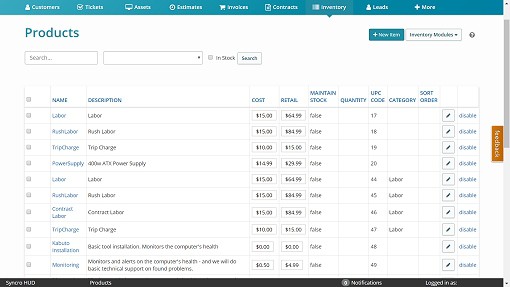 Marketing & Lead Generation
Syncro includes sales workflow tools powered by integrated estimates, invoices and contracts. Offer free consultations or capture contact requests online to generate new business. Build new relationships and generate repeat business with built-in marketing tools designed to automate client acquisition and retention marketing.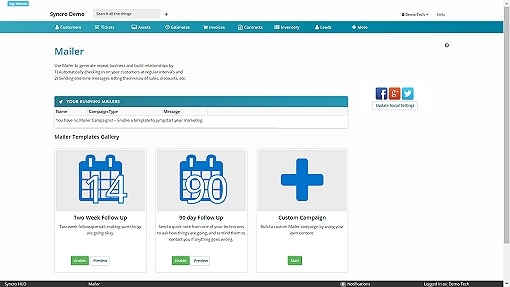 Back Office Automation
You know the stuff you don't want to do, but it keeps your business afloat? We've got you covered. From time-tracking to integrated calendars and customizable templates, Syncro's PSA eliminates the manual load of back office tasks and enhances business processes.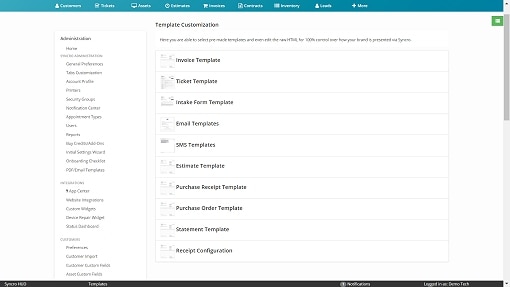 Custom Ticket Workflows
As your business evolves, so does the way you work. We've added Custom Ticket Flows to Syncro so that you can customize your ticket processes to ensure you're getting the information you want from your client project. You can Show, Hide or Require ticket info like Email, Phone #, Referred by and more to your PSA system.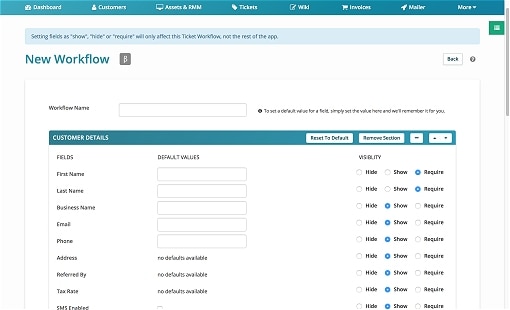 Get a started with a fully-featured free trial today to experience our automated solution.