Syncro
Modern MSP Software
Combine your RMM, PSA, help desk, billing, customer portal, remote access, and much more in one unified platform. All with no contracts, ever.
Combined PSA + RMM + Remote Access in One Intuitive* Dashboard

*DISCLAIMER:
We realize that "Intuitive" sounds ridiculous when used to describe an MSP Platform, but we're serious. It's intuitive.
Fully Combined Platform
With Syncro, your PSA and RMM work together seamlessly, you can easily launch a Remote Session, and all of your data lives in a centralized MSP Dashboard. Syncro is built to truly streamline your workflow.
Integrations You'll Love
Syncro integrates with your favorite apps – like ScreenConnect, IT Glue, TeamViewer, Bitdefender, Quickbooks and more – so you can eliminate the double data entry and re-invest that precious time into your business.
Radically Simple Pricing
Just pay per seat and get unlimited endpoints with clear visibility to any optional add-ons. Not much more to say here. It's really that simple!
Beautiful, Intuitive Interface
Our goal: to build MSP software you'll love to use, with an intuitive interface that makes you more efficient and cuts down on training time.
Transparent and Simple Pricing
No Contracts. No Minimums. No Platform Fee. No Setup Fee. No Required Training Fee.
Just Transparent and Fair Pricing. Come see for yourself. Create an account today and try Syncro free for 30 days.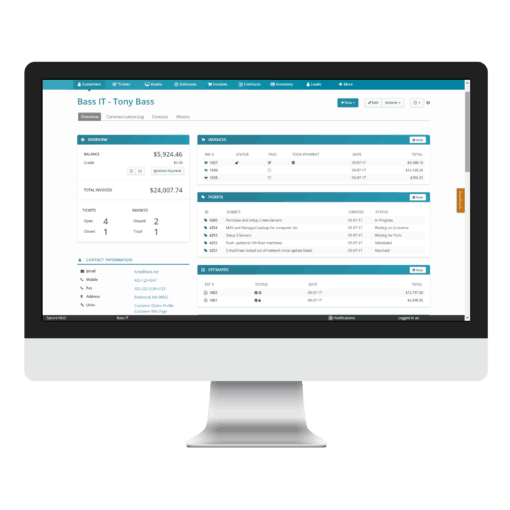 Everything you need to run your MSP
Remote Monitoring and Management (RMM)
Ticketing / Helpdesk
Manage your Customers (CRM)
Automatically Bill your Clients
Syncs with your Accounting Software
Managed Antivirus
Inventory Management
Documentation
Tons of Integrations
So much more…
We switched to SyncroMSP in November of 2017 as a way to consolidate our MSP operations under a single platform. We now have a single dashboard giving us instant access to clients, billing, tickets, RMM Alerts and Remote Access saving us a lot of time when helping clients. Not to mention saving us several hundred dollars a month vs what we were paying for multiple systems prior. We take advantage of the ticket automations to speed up our response times, improve client satisfaction and reduce overall costs. SyncroMSP has helped my team tremendously in just a short time.
Syncro is simply outstanding. One of the best decisions I made for my business when growing from a break-fix computer repair service to an MSP model was choosing Syncro. It was a game changer that increased our profits, saved me hundreds of man-hours, and most importantly increased our profits. Their support and the constant evolution of their software suits us as we grow Crosshaven Computers. Five stars from us and a big thank you to the team from Ireland
The Syncro team is pounding out code and features week after week…and listening to their clients. As far as my experience has been, they have been far better with customer interaction, support, communication than any of the RMM's I've worked with.
Start Your 30-Day Free Trial
Create an account today to claim your 30-Day Free Trial of Syncro and experience the power of a truly integrated MSP platform.