Intro
One of the best and most effective ways to transform your MSP business is by using a CRM (customer relationship management) tool. Why, you ask?
For starters, rather than solely relying on word-of-mouth referrals from existing clients, CRMs enable MSPs to proactively manage and enhance operations as well as sales and marketing processes (e.g., email marketing campaigns, sales calls, lead follow-up strategies).
Additional advantages include heightened sales team productivity, shorter sales cycles, client segmentation, and more.
What to look for in an MSP CRM
Below, we dive into what to look for in an MSP CRM and how these features help elevate your business.
Communication features
As the saying goes: communication is key. When searching for your preferred CRM, it's in your best interest to select one that has robust communication features to keep your client interactions seamless.
For instance, integrating a customized system tray icon (that displays your company's branding) on every client device offers customers frictionless, built-in ways for getting in touch with you, whether that's via live chat, agent contact forms, direct email, or more. These communication moments can then flow into a ticketing system to ensure comprehensive documentation.
You might also use your MSP CRM to establish a personalized customer portal where they can access documentation, review and process invoices, initiate remote sessions on their assets, or create support tickets.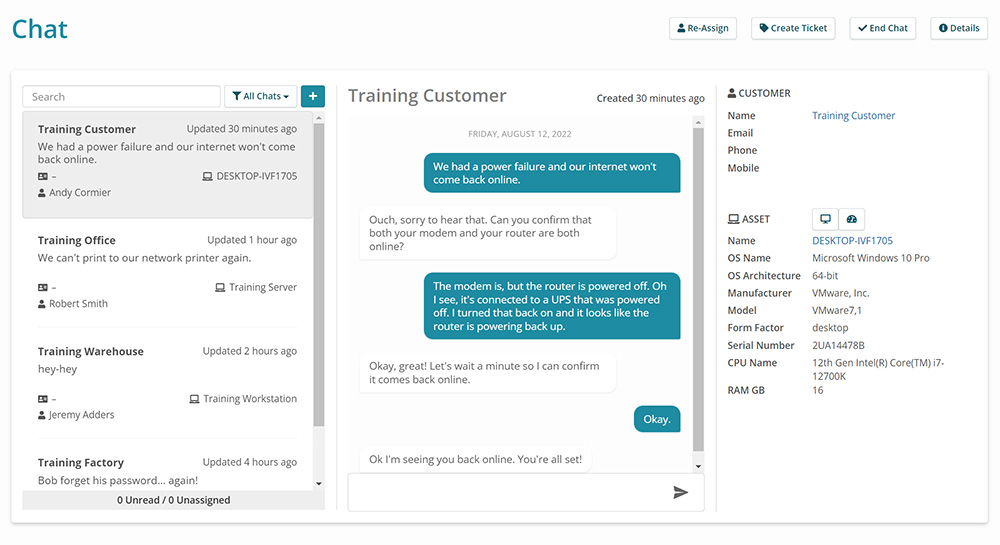 Security
While it's true that not all MSPs are looking for the same features, we can all probably agree that security is one of the most critical factors for many MSPs – regardless of industry – due to the sensitive nature of client data, and the volume of that sensitive client data. Any breach of confidential customer information could result in significant legal ramifications, financial loss, or damage to your MSP's reputation.
To that end, choosing a CRM that prioritizes security is paramount in ensuring data protection, access control, and encryption, safeguarding client data from cyber threats and unauthorized access. It also helps your MSP adhere to data privacy regulations.
By emphasizing security as a top factor in your MSP CRM choice, you can foster trust, maintain compliance, and protect your clients' information, all of which enable you to run a successful and scalable business and maintain relationships in an increasingly data-centric world.
Integrations
MSP CRMs that seamlessly integrate with other tools can streamline day-to-day operations, which can equate to hours back into your day to focus on more important matters, or dollars funneled back into precious budgets.
For instance, imagine setting up integrations to allow clients to pay invoices online, more efficiently run accounting and reporting, or manage email marketing. How many hours of doing manual, ad-hoc work do you think you would save a day? Four? Six?
Beyond that, consider how your employee and client experiences would improve. Your technicians will also reap the benefits of streamlining their workflow and thus getting valuable time back in their day, which customers will undoubtedly enjoy a more integrated, efficient, and streamlined experience.
In sum: integrations within your MSP CRM are a win for everyone and can be the game-changing factor that takes your business to new heights of success.
Reporting & analytics
A CRM tool that offers built-in reporting and analytics features is advantageous for your MSP as it offers a convenient and efficient way to track ROI. Robust versions of this feature also allow you to pull insights from every corner of your business, from operations and client relationships to efficiency and profitability gaps.
With access to such comprehensive data at your fingertips, you can make informed business decisions (e.g., when to increase staff, invest more into marketing, trim fat in your tech stack, etc.), identify areas of opportunity or improvement, and demonstrate/report your value to clients.
This strategic, data-driven approach to running your MSP business will enhance operational efficiency and help you deliver better services, ultimately contributing to business success.
Automation
Automated sales and billing capabilities help MSPs reduce administrative tasks, save time, and boost revenue. Assuming you've selected an MSP CRM that boasts automation features, you can streamline time-consuming and arduous tasks such as calculating accurate billing, setting up and sending recurring invoices, and capturing client information, just to name a few.
By spending less time on administrative tasks, you free up valuable time to create and execute strategies that help you capture more business, and by extension, revenue – setting your business up for sustainable success.
Flexible ticketing
When choosing the best CRM platform for your MSP, it's imperative you go with a tool with flexible ticketing capabilities – something that allows you to fine tune and tailor your IT help desk according to your preferences. 
Doing so will help foster greater team organization and smooth out workflows so they're optimized to the highest level of efficiency possible. Additional ways that flexible ticketing capabilities help include:
Crafting customized ticket workflows to align with your business operations
Incorporating template worksheets for consistent handling of common ticket types
Ensuring accurate billing by seamlessly integrating ticketing with your billing process, capturing all billable hours and completed tasks
Contract management
Contract and service level agreement (SLA) management in an MSP CRM is vital as it helps you efficiently oversee client agreements, ensuring compliance, accurate billing, and timely service delivery. This empowers you to track details of contracts, renewals, and SLAs while simultaneously reducing errors and disputes.
By prioritizing this feature in your search for your preferred MSP CRM, you can enhance customer satisfaction, maintain legal and financial integrity, and ultimately strengthen client relationships, all while optimizing your own operational efficiency and revenue management.
Remote support capabilities
Remote support capabilities are paramount in efficiently diagnosing and resolving client issues from afar. It allows you to provide timely and cost-effective assistance, reducing downtime and increasing customer satisfaction. It also minimizes the need for on-site visits, saving time and resources.
As an MSP, you know that prioritizing remote support in your CRM equips you with the tools to deliver top-notch service, manage client issues effectively, and boost overall operational efficiency, all of which are essential for success in today's remote work environment.
When looking for specific remote support capabilities, be sure to keep these on your "must-have" list:
One-click remote sessions
Remote event viewer
Remote file system browser
Remote service manager
Remote task manager
Remote PowerShell sessions
And more!
Unlimited product support
You also want to be sure to invest in a tool with comprehensive and unlimited product support. Make sure your MSP CRM has mechanisms in place to help you troubleshoot, make feature requests and recommendations, submit tickets, and speak with an actual human.
Whether that's through a proprietary community forum or social forum, it's critical that something exists that connects you to them and the MSP community to ask questions and bounce ideas off.
Cloud vs. on-premise solutions
It's important to consider the difference between these two types of solutions and what they offer when selecting the best solution for your MSP.
Cloud solutions are more versatile for distributed teams and offer the flexibility of remote access, scalability, and reduced infrastructure costs. Additionally, a cloud-based MSP CRM means you aren't required to have a server or technical expertise. You simply need to log into the program and you're good to go – all patches, updates, and the like are typically taken care of with detailed release notes.
For on-premise solutions, in contrast, you'll be responsible for purchasing the software, hosting it at your physical location, and hiring in-house IT staff while procuring the essential equipment. However, the advantage here lies in direct server access.
The choice between which avenue to go with is obviously dependent upon your individual needs. However, generally speaking, cloud solutions often prove more advantageous for MSPs, as they reduce overhead, enable efficient remote management, and offer scalability to accommodate clients' changing needs.
Pricing
Some platforms may charge a higher price for the features you need, so we recommend looking for an all-in-one platform that offers transparent pricing. Not only will it simplify budgeting and cost management, but it also spares you the anxiety/stress of surprises and hidden fees.
In all, this type of pricing structure enables you to allocate resources efficiently and deliver consistent, predictable services to clients while maintaining your own profitability.
Learn more points of comparison to find the best MSP tools for your business in our RMM Buyer's Guide and PSA Fact Sheet.
A free trial
Sign up for a free trial of Syncro today to try our all-in-one MSP CRM platform.
A scalable CRM for MSPs
Syncro is a contract-free, scalable solution for MSPs and included unlimited devices, giving you all the tools you need to exceed customer expectations.