You might ask, "What is RMM?" Remote Monitoring and Management is a tool that Managed Service providers (MSPs) can use to keep an eye on their clients' networks, endpoints, and PCs. RMM IT software is deployed on client systems, servers, workstations, mobile devices, and other gadgets through an agent or a small software footprint.
These agents equip MSPs with remote monitoring capability and transmit data from the client devices back to the MSPs. This data includes machine status, health, and other essential details. One of the benefits of RMM is getting insights into client networks. They can use RMM to monitor equipment remotely, maintain and update them, and even proactively anticipate problems and address them remotely. This article will cover some of the robust features RMM softwares present.
Key RMM Software Features
Numerous remote monitoring and management (RMM) systems are available, each claiming to be the finest in the game. So, how do you choose the best RMM software? Before you decide, it's useful to make an RMM software comparison. Depending on the RMM platform, you can use all or some of these features: 
1. Simplified Deployment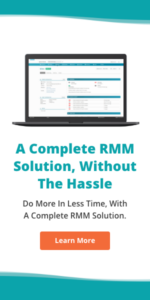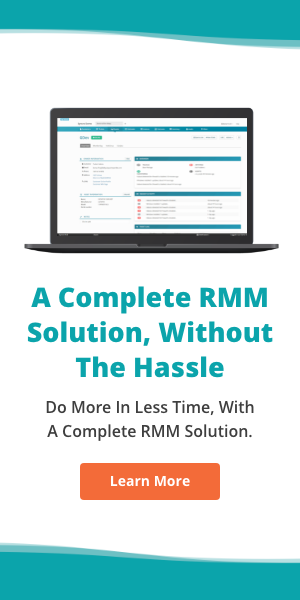 Most RMM tools are now cloud-based client apps that need to be installed on your clients' endpoints. These agents will monitor specific client systems and provide remote access to them.
Finding that gent installation is becoming a tedious process? Instead of deploying every agent individually, look for auto-discovery and "push-installation" features in RMM systems.
These will aid in selecting a new system and the automatic commencement of the RMM agent's remote installation. Otherwise, you'll have to use third-party tools like Windows Active Directory GPO, or scripts to deploy the installation file.
2. Scalability
Because you want your enterprise (and its IT environment) to grow with time, your ideal RMM product should be able to keep up without creating challenges or bottlenecks. Transitions and upgrades should be as straightforward as feasible. An  RMM's core feature is continuous monitoring of quality, stability, and security across the IT environment, so it should be able to handle a rise in devices or variations in device functionality with ease.
3. Centralized Dashboard
Although most RMM vendors guarantee a "single pane of glass" dashboard, what this implies in reality varies.
As a result, you should thoroughly examine the dashboard features of the RMM system you're considering. Because you and your staff will be using it for a long time, be sure it is ideal for your work environment.
You'll need a tailored dashboard with thorough reports on all the systems that demand your attention when managing the administration procedures. To reduce manual activities, choose a dashboard panel that displays the breadth of new systems, systems requiring action, listings of the most recent mistakes identified, and so on.
4. Real-Time Monitoring and Alerts
One of the most important aspects of RMM functionality is deploying alerts when something goes awry. Look out for technologies that can provide warnings based on the state of both the general system and particular apps. You should be able to set up notifications when something completely fails and when experiencing negative performance.
Customizing alerts is also critical, as you may require various alerts outside of those included with standard RMM tools. To avoid receiving redundant alerts, you may need to adjust the alert thresholds or frequency.
5. Patch Management
Effective RMMs offer a patch management solution. This is primarily due to the time-saving ability to remotely apply periodic security updates, emergency patches, and quality upgrades throughout the system. It represents repetitive tasks that can be performed by an automated system rather than by your IT team manually. This may aid in the management of IT assets and the maintenance of consistent, long-term reliability across your network.
6. Security and Resource Management
One of the most significant features of RMM products is the capacity to remotely push and schedule security management tasks and patches. You no longer need to manually upgrade numerous locations' worth of software and operating systems. Critical security updates can always be implemented swiftly and reliably using RMM, lowering the risk profile of your IT environment.
RMM solutions can also assist IT workers in detecting and monitoring suspected network activities by highlighting abnormal resource utilization and other irregularities. This is beneficial not just in terms of security but also in terms of resource management and detecting any future hardware or bandwidth issues.
7. Adaptable Licensing Framework
If you're an IT service provider who works with various clients, you'll need an RMM solution that can handle a wide variety of use cases and preferences. As your company's demands change, a dynamic RMM platform will adapt and expand.
8. PSA Integration
Are you deploying a professional services automation (PSA) tool? If that's the case, you'll want the PSA and RMM to work asynchronously. An RMM product that is proven to work with your PSA can help you streamline your workflow and lessen the risk of interruption during rollout. These integrations will help enhance the IT team's overall management and improve resolution speeds.
9. Reporting
Your RMM should have extensive reporting features so that you can quickly track and use the data you have. Because the RMM is continually gathering data from the monitored systems, you'll want to be able to share it with end-users and executives. Managed IT service providers, in particular, want to be able to provide reports that showcase their value to clients.
10. Ease of Integration
Your RMM solution should be tailored to your organization's needs in terms of onboarding and integration convenience. Some tools are quick and easy to use, allowing quick assessment of an organization's resources and needs. This is the initial stage in the RMM setup process, and it's immensely helpful when it can identify all relevant devices in your network (or a client's network), assess each device's resource and management requirements, and identify user groups.
11. Ease of Use with Scripting
The ease of use with scripting is also a significant issue. Nobody wants to run a script from their RMM and have it fail. Most MSPs are not suited for onsite file sharing with small client offices, and MSPs do not get a second chance to deploy software. As many clients do not have an onsite server, RMMs must be able to remotely distribute software without using local servers.
12. Mobile Device Management
Your employees can now access and utilize the same business communication tools they have in the office, thanks to the current generation of mobile phones. They can now stay in touch with the main office and work quickly and productively when away from workstations, home, or on the road.
Field staff can use internet-enabled smartphones to quickly and conveniently obtain the information they require for their duties. When technicians conduct maintenance or repairs, they can quickly retrieve customer service records and equipment data. They can also utilize databases of known issues to expedite the process, enhancing productivity and customer satisfaction. Because remote employees make up a large portion of today's workforce, RMMs must cater to mobile devices.
Manage your IT Needs With Syncro MSP
The Covid-19 pandemic and the digital revolution teach us that circumstances may change swiftly, and IT infrastructures must be backed by technologies that can switch rapidly and smoothly. RMM systems have become an even more critical IT tool, enabling IT managers and MSPs to swiftly analyze vital information about their IT environment and build a strategy to accommodate remote operations and a wide variety of managed service demands.
How do you decide which is the best RMM software with so many platforms to choose from? Syncro's powerful RMM allows you to amplify and extend your business efforts. Syncro MSP provides a combined RMM and PSA platform replete with invoicing, automation, customer management, scripting, help desk, and ticketing. Schedule a demo or download our free RMM Buyers Guide to check out our robust services.