RMM Software for MSP's
Every managed service provider needs the support of a sophisticated RMM platform. Oversee your clients systems, client network, and client devices with ease and control. Syncro's powerful remote monitoring and management (RMM) capabilities allow you to amplify and extend your expertise and efforts.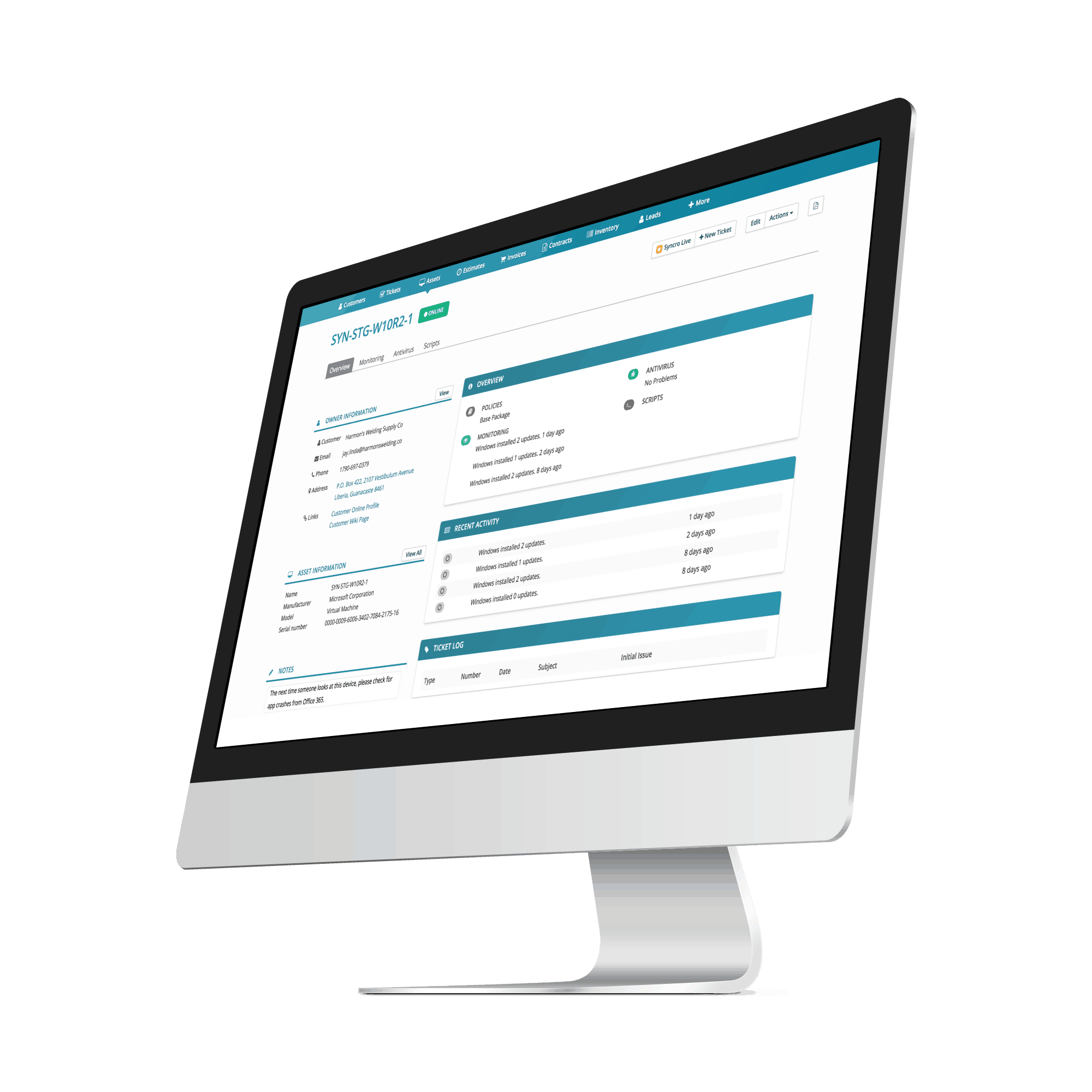 Advanced RMM Tools That Enhance Your Business
Remote Monitoring and Management
With real-time Remote Monitoring and customizable Notifications, you can choose what issues are surfaced so you can quickly focus on identifying and fixing critical situations.
Automated Remediation
Identify, diagnose, and fix issues – fast. Between comprehensive Network Monitoring, real-time Alerts, and an extensive set of Maintenance tasks, you'll fix issues before they even become your client's problems.
Seamless Communication
With built-in communication tools and a dedicated Portal for each client, you can offer better communication while automating a majority of the messages.
Robust Reporting
Built-in MSP reports enables you to maintain line-of-sight to your entire network's performance, while also letting you dive into details of each client's environment.
What is Remote Monitoring and Management
(RMM) Software?
Remote Monitoring and Management (RMM) software helps Managed Service Providers (MSPs) keep their clients systems secure and running smoothly on servers, desktops, laptops and software. RMM software streamlines tools and automates common tasks so that IT professionals can work as efficiently as possible.
Unlimited PC and Mac Endpoints
Support fleet of PC and Mac assets side by side. Our new Mac Agent enables support for RMM Alerting, Live Chat, Splashtop Remote Access, Scripting and Managed Antivirus support for both BitDefender and Webroot.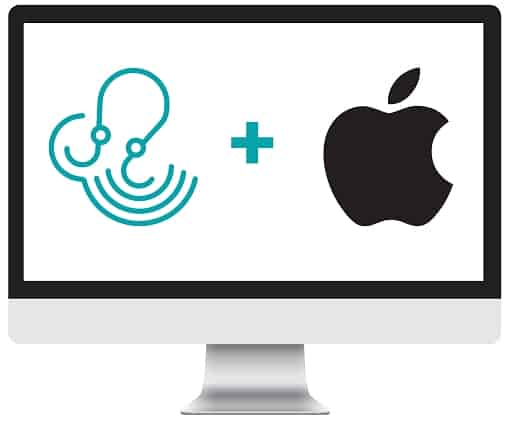 Real-time Issue Monitoring and Notifications
Remotely monitor devices for common issues with confidence and receive notifications in real-time when they occur – all from one cohesive web-based dashboard.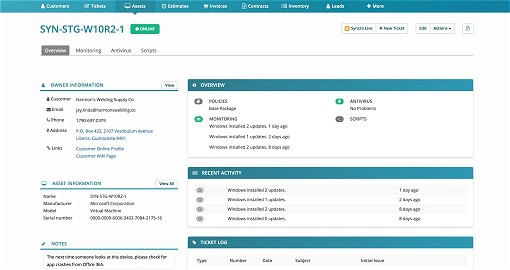 Powerful Scripting Engine
Having a combined PSA and RMM gives you unprecedented power when it comes to scripting. Use customer data in your scripts, add time to tickets, and modify invoice data from your scripts. The automation possibilities are endless!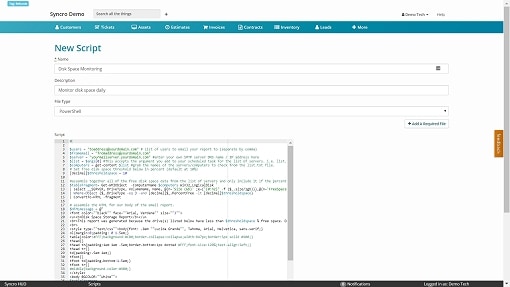 Community Script Library
Don't want to write your own scripts? We've got you covered. The Community Script Library is a place to view a library of valuable scripts created by both the Syncro team as well as your fellow Syncro user community members. There's no need to re-invent the wheel, you can simply borrow it from other techs! Check it out and please submit scripts of your own.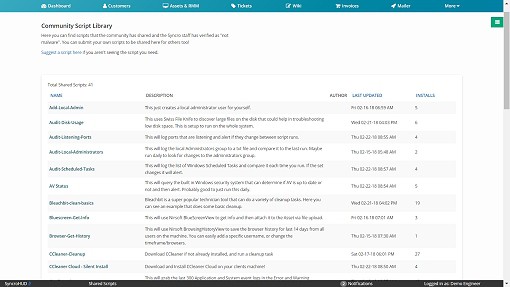 Automated Remediation
Set up Automated Remediations to automatically perform actions when an RMM Alert is created, such as creating a Ticket, sending an SMS message to a technician, running a script, and more! Using Automated Remediations, you can go all the way from detecting an issue, to resolving it, to billing your clients, in a completely automated way.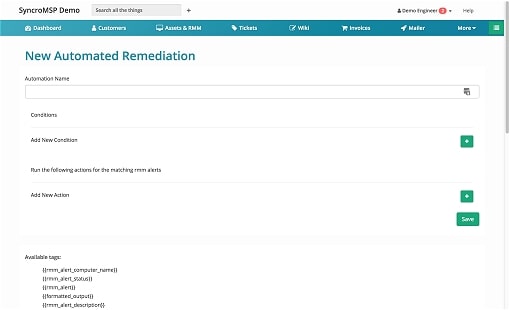 SNMP Management
We've implemented SNMP using the same patented ease-of-use mentality we use throughout our entire platform, allowing both networking pros and those just getting started to quickly and easily monitor their network devices. From printer toner levels and page counts to RAID and disk failures, our network monitoring toolset has got you covered. We've even implemented OID recipes, allowing you to create commonly used OID sets and apply them to newly added network devices with the click of a button.

3rd Party Applications Patch Management
Keep 3rd Party Applications up-to-date with Syncro's Patch Management. Just select what common applications you'd like to manage, and we'll make sure they're always patched when a new update is released.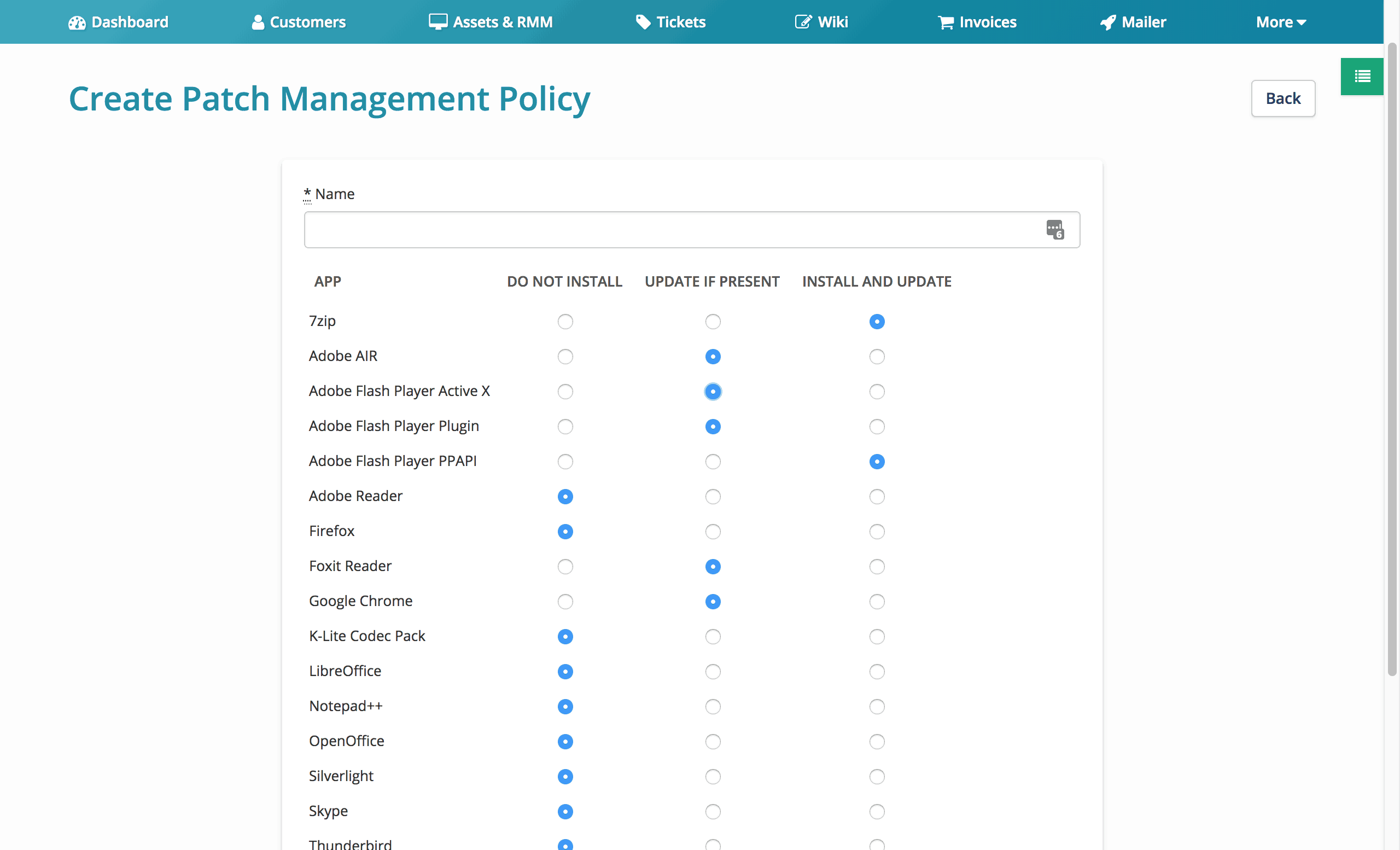 Ready to Experience an All-In-One MSP Platform?
Windows Patch Management
Automate Windows Patch Management. Create regular schedules, choose which updates to install or block, and get reports that tell you which patches are missing.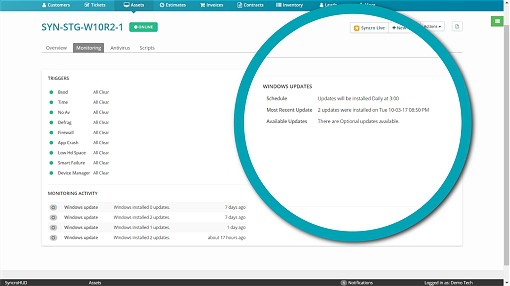 Managed Anti-Virus
Offer clients iron-clad security and unbeatable peace of mind. You can now use Syncro in conjunction with Bitdefender, Webroot, or Emsisoft.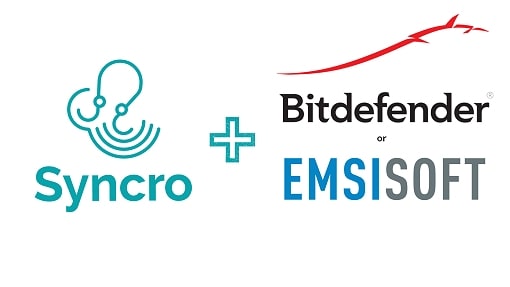 RMM Reports
Use our RMM Reporting functionality to quickly gain insights about a client's frequent issues, critical alerts and more. Generate client-facing Reports automatically, pick the time frame you'd like to report on, and schedule a recurring report to be emailed to your client directly on an interval of your choosing. Customize report text to help your client get the most out of the information in the report as well.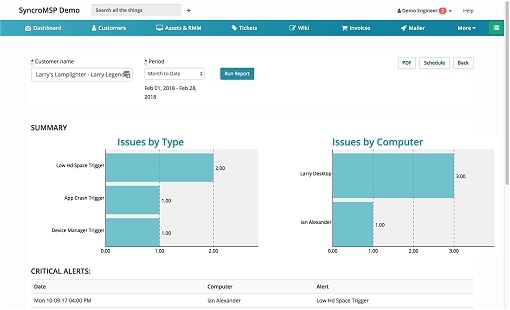 Policies
Streamline device management with Policies to change settings and preferences in bulk. Easily make global changes to devices and feel like a genius while doing it.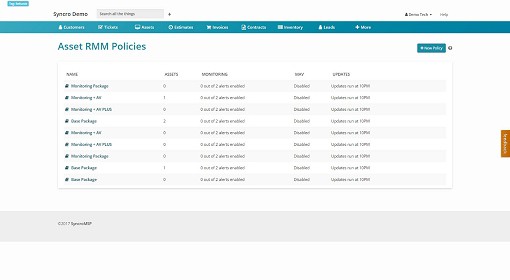 Built-In Remote Access
Use Syncro Live to easily start unattended remote access sessions, remote command prompt and PowerShell, file system upload/download, remote task manager, remote services management, and more.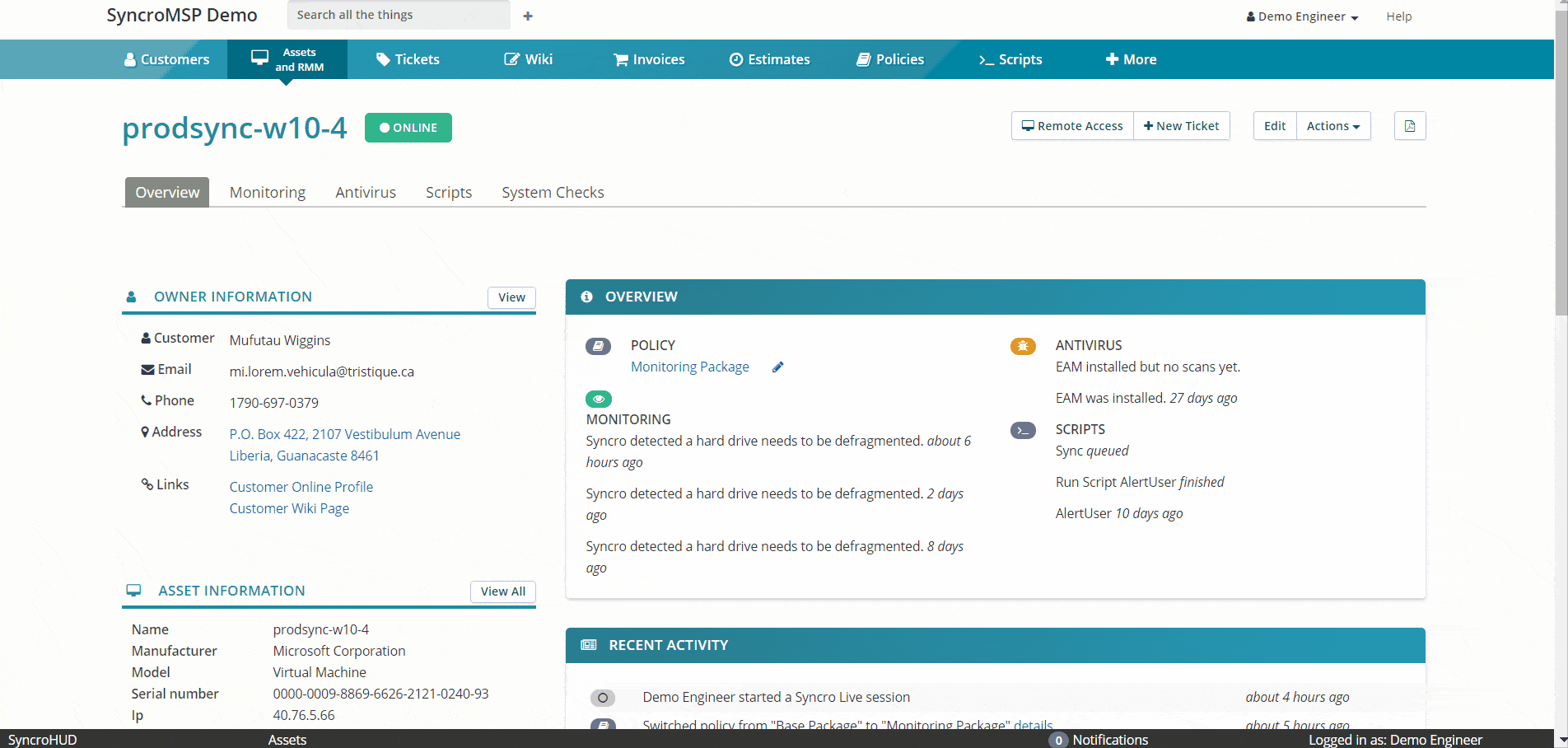 MSP Dashboard
Go beyond data points and find true business insights in Syncro's extensive analytics suite, including a dashboard designed to report information key to your MSP business. Syncro can also produce and schedule a variety of client facing reports so you can keep your clients well informed.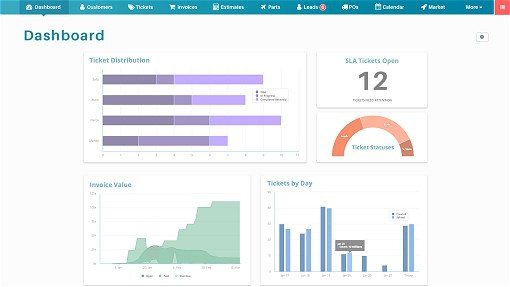 Full-Featured, Integrated PSA
Your PSA and RMM are now combined within Syncro's fully integrated platform. RMM monitoring and alerts connect directly to a robust ticketing, invoicing, and billing system to streamline your business from end-to-end.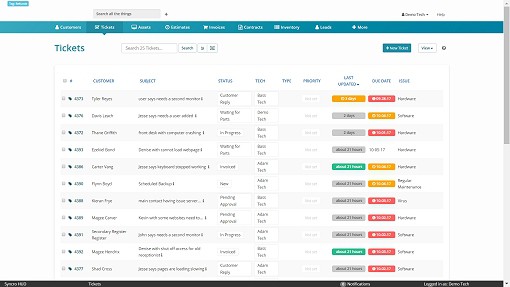 Get a started with a fully-featured free trial today to experience our automated solution.