Syncro will soon be five years old. We recently celebrated reaching 4,000 MSP partners.
Though I haven't been here for all of Syncro's history, I'm lucky to have worked closely with the founding team and my predecessor, Robert Reichner, to understand where we've come from and what we've achieved with our partners.
In some ways, our five years in existence seem like an eon. So much has changed, both within Syncro, and around the world, since 2017.
In other ways, it seems five years have passed in the blink of an eye. It's true: time flies when you're having fun.
We know the next five years will be the same—they will bring much change and they will fly by. So our team has spent the summer thinking very seriously about what we want the next half-decade to look like.
Big themes like efficiency, flow, streamlining, and growth are rising to the top. And we're making changes all across the company—from the visual brand and resource content to the product offering and partner experience—to reflect this focus.
Here's a quick look at what we're launching this week and what you can expect to see from us in the future.
New Syncro logo and fresh color palette
Syncro's octopus mascot represents the smart coordination of multiple features. We wanted to reinvigorate its presence to signify the concepts of greater flow and speed. Our new octopus has a friendlier face with rounded tentacles in an infinity shape that hint at continuous forward movement.

The updated color palette honors our signature turquoise but brightens it up a bit, and adds an inky purple and a marine blue that together represent water. A natural choice given our sea-creature mascot, our new palette also underlines the ideas of flow and motion. The pink pops as a coral accent.
Streamlined Syncro website
If you're reading this, then you're on our all-new website so you may already have noticed some changes!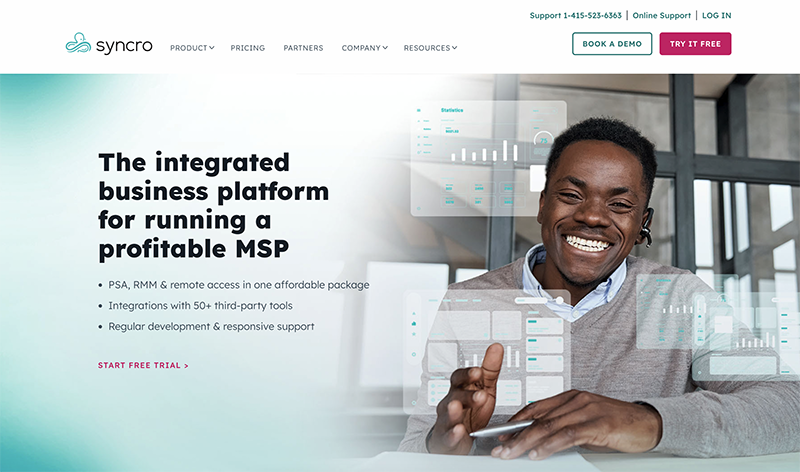 Our goal in launching this refreshed site was simplicity and ease of use with direct access to the content you need. We've collapsed all our product information into a single section, added a page of MSP feedback and reviews, and substantially built out our resource center. Every page has been redesigned for a cleaner look and feel.
New and expanded MSP resources
One focus in the coming quarters is to dramatically increase and improve the resources we share with you, including more content on how to run an efficient and profitable MSP.
You'll now find everything we publish in our updated resource hub, which you can browse, search, or filter by either topic or format.
We recently refactored our MSP blog. As of late July, we're now publishing weekly posts focused on substantial how-tos around tech, trends, team, finance, operations, and balance. For example, in August we took a detailed look at MSP billing models and ways to get more efficient at handling tickets.
On Sep 14, we're launching a newsletter called the Syncro Skimmer. Every two weeks, the Skimmer will curate industry headlines and resources in a quick-skim format to arm you with the news you need to run a healthier, more profitable MSP business.
We're also launching a monthly What's New in Syncro newsletter to keep you up to speed on the latest product developments.
Plus we're hard at work refreshing the Syncro YouTube channel to bring more video content your way. (And as with everything, we want to hear from you. Submit a short video answering one of our questions and we'll send you a free t-shirt with the new Syncro octopus.)
We're also building an audio program—watch for details this fall.
Our goal with all of this content is to start more conversations with our partners and deliver information conveniently and accessibly, packing in as much value as possible, and to repurpose and resize the content across media so you can choose the format that works best for you.
Product developments
As your MSP businesses have been growing, Syncro has been stretching and growing too. We want to be there for you, whether you're just starting your business or are accelerating your growth.
Central to the platform is reliability and security. We aren't perfect, but we've made a lot of investments to resolve bugs and remediate defects, complete security audits, and upgrade infrastructure to move our cloud hosting to a more long-term scalable solution.
We also want to make sure you can monitor your clients' fleets so we rolled out OS patching earlier this year and are providing more integrations with essential solutions like security awareness training and backup. Seeing unprecedented scale on our platform, we'll continue to make recurring jobs and invoices run reliably.
We're investing heavily in the PSA features, an integral component to drive efficiency for you and your MSP. One example of this investment is better VAT support for the UK region, saving hours of labor for our partners. Another is the addition of ACH support for our Stripe integration partners.
Rich text ticket comments are in the works, which will cut down on back and forth and allow easier communication with your clients.
We're working hard on UI/UX improvements to help you find what you need more easily, get there with fewer clicks, and finish work faster. You'll start to see changes in this area throughout the fall.
We're rolling out reports around ticket processing efficiency, both by technician and customer, that will help you identify opportunities to grow your business faster.
We know that you never rest, and we don't either in our mission to make your lives better. We'll continue to deliver delighters—small improvements that make your workflow better—every couple of weeks, and you can always refer to the release notes for what's new.
What's not changing at Syncro
Since our beginnings in 2017, Syncro has been focused on helping MSPs start and build more efficient and profitable businesses. That's still our mission today.
Syncro has always been a company committed to seeing the human in each other and treating people fairly. That also will not change, ever.
And as always, we're committed to listening to partner feedback. Whether you submit a support ticket, post a comment in the Syncro community, or email me directly with your feedback, we want to hear from you. We read every message and your feedback plays a huge role in deciding our product roadmap. We only build what will help you feel more confident in the service you deliver your clients.