Another year is winding to a close. Time for wrapping up, slowing down, savoring life's pleasures, and planning for the new year ahead.
But before we get there, we thought you might enjoy the chance for some extra jingle jingle for all the hard work you put into your MSP business in 2022.
So Syncro got together with Channel Program and 28 other channel vendors to bring you Holidaze, a 10-day gift spree just for MSPs.
It's so epic you'll feel like this guy:
How does Holidaze work?
Holidaze runs for 10 business days, from Nov 28 to Dec 9, 2022.
On each day of Holidaze, Channel Program will unwrap two special gifts from participating sponsors and draw a lucky winner for each one. Prizes to be won include a PS5, VR glasses, a $500 Amazon gift card, an Apple watch, an Xbox Series X—and so much more.
There are also three grand prize bundles—worth $2,000 each—that will go to three more lucky winners at the end of Holidaze on Dec 9.
Will you win this grand prize bundle with the Syncro-donated Apple AirPods over-ear headphones? You've got to be in to win it!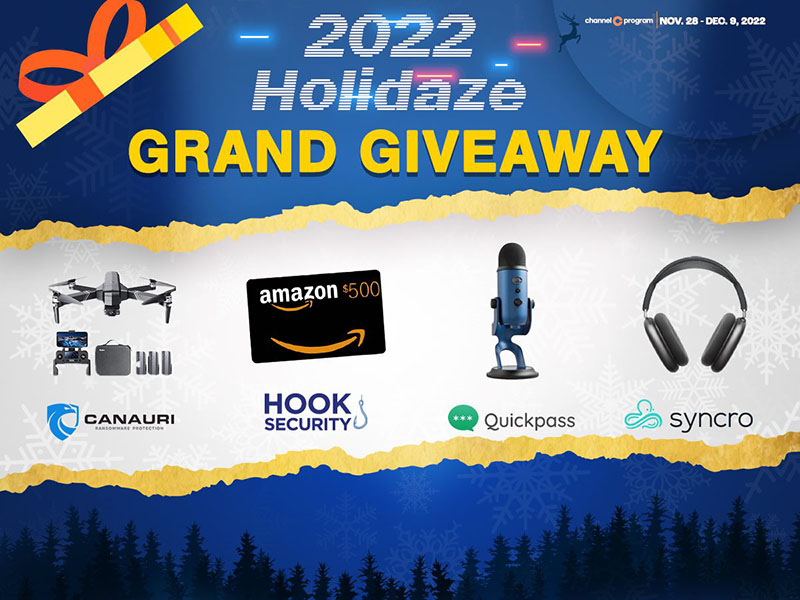 How to join Holidaze
You can sign up for Holidaze any time between now and Dec 9 at 5 p.m. ET.
When you do, you're automatically entered into all the prize drawings that take place after you join. The sooner you sign up, the more gifts you're eligible to win.
You'll also be automatically entered into the drawings for all three grand prize bundles.
Note: You must be a resident of the United States, Canada, or the UK to be eligible for these sweepstakes. (To everyone in Australia and elsewhere—it's not that we don't love you, because we do! It's just sweepstakes red tape…😞)
Join Holidaze, the best MSP holiday sweepstakes of 2022 to see 2022 out with bang. Good luck!