January… a new year. A time for resolutions and fresh starts.
It also happens to be Clean Up Your Computer Month. So what better time to peek into your clients' IT environments to see where a little tidying could do some good.
Here are five computer cleanup tips that can help you extend device life, improve performance, or tighten security for your clients, while bringing in some revenue for you.
---
1. Inventory office machine weak spots
Start by looking at typical weak spots in a client's environment: devices like printers, fax machines, copiers, and older IoT machines such as smart coffee makers that often don't have a lot of security features.
Cybersecurity consultant Doyle Hendricks points out that "most offices have at least a few overlooked attack vectors in dated hardware or IoT appliances, and they shouldn't be ignored."
Can you get rid of the machine altogether or upgrade it to something more secure? If not, Hendricks recommends keeping devices unplugged until they're needed.
TIP! You can use custom asset types in Syncro to track devices like printers and faxes.
2. Flag aging network equipment and computers
As a rule of thumb, most network gear lasts about three to five years, with a similar average lifespan for computers.
Use the asset aging report in your PSA to understand which servers, firewalls, switches, routers, and client endpoints are in the aging red zone, so you can make a plan with the client to replace those items in the next 12 months.
If you do this asset inventory across your entire client base at once, you can offer some really great discounts due to bulk buying with your hardware suppliers. eNerds founder Jamie Warner uses a bulk buy campaign every year to give his revenue a substantial bump.
When you're ready to swap in new network gear, remember to get the old stuff out before it starts collecting dust and creates its own risks.
3. Audit your client's application stack
The average large business uses 367 apps to get their work done. While your clients may not have a stack that big, chances are they're using dozens of different tools in their day-to-day work.
Oversized app stacks can lead to frustration and productivity loss. The average employee flips between 13 and 30 apps in a day, and more than a quarter of those employees say app overload makes them less efficient.
Too many apps can also lead to unnecessary spending, where companies pay for multiple tools that do the same or similar thing, or tools that were purchased on subscription but forgotten about.
All of this is to say that offering to help your clients audit their software applications is a task that's ripe with potential payoff.
Are they still using everything they're paying for? Cancel anything dormant.
Are multiple teams separate accounts with the same tool? Consolidate.
Is there functionality overlap between tools? Consolidate.
If you consolidate users and apps, do you now have enough volume that you can help negotiate better contract pricing?
4. Scan for unauthorized agents
Unfortunately, bad actors continue to use phishing campaigns to install legit RMM agents on a target device, and from there to use the RMM's management and remote control features to wreak havoc.
MSP Isaac Good has shared this Powershell script for Syncro partners to help auto-scan your client devices for unauthorized apps. Make a clean sweep of anything it finds.
5. Get the gunk out
While I hope you never have to deal with the sort of nightmare messes that appear in the Tech Support Gore subreddit, there are still lots of devices that could do with a good blowout now and again.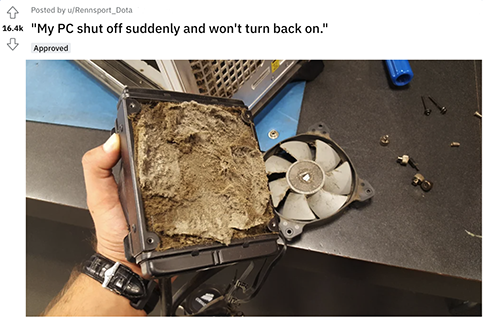 Switches, servers, and other closet gear need regular dusting to stay optimally healthy. If your clients are in a particularly dirty environment, like manufacturing or automotive repair, their laptop and desktop machines will need regular physical maintenance too.
For everything else, once a year might be enough, and what better time than Clean Your Computer Month? These compressed air dusters are perfect for the job, and better for the environment than canned air.
–
There's no need to wait for spring to get a jump on cleaning. Kick off the new year with a plan to spruce up your client environments for great performance, efficiency, and security all year-round.