Since the launch of Syncro, we've received tons of fantastic questions and responses. We'd like to express a huge thanks to all those who shared their thoughts and have taken the time to check out Syncro.

One piece of feedback really stood out about the rest:

"Where's the RMM? How does it work?"

In Syncro, the RMM is fully embedded throughout the app. Our philosophy with Syncro is that you should be able to move quickly and gracefully through PSA workflows, RMM functionality, and managing Remote Sessions without jumping into separate apps.

This was leading to some confusion. We noticed that people were having trouble finding the RMM! It seems that the RMM experience was TOO seamless!

Because the RMM is embedded throughout the platform, it exists as functionality that is easily accessible throughout the app, instead of a separate, distinct module.

For example, you can create an RMM Agent Installer directly from the Customers view, giving a quick and simple workflow for adding a new monitored device for a customer: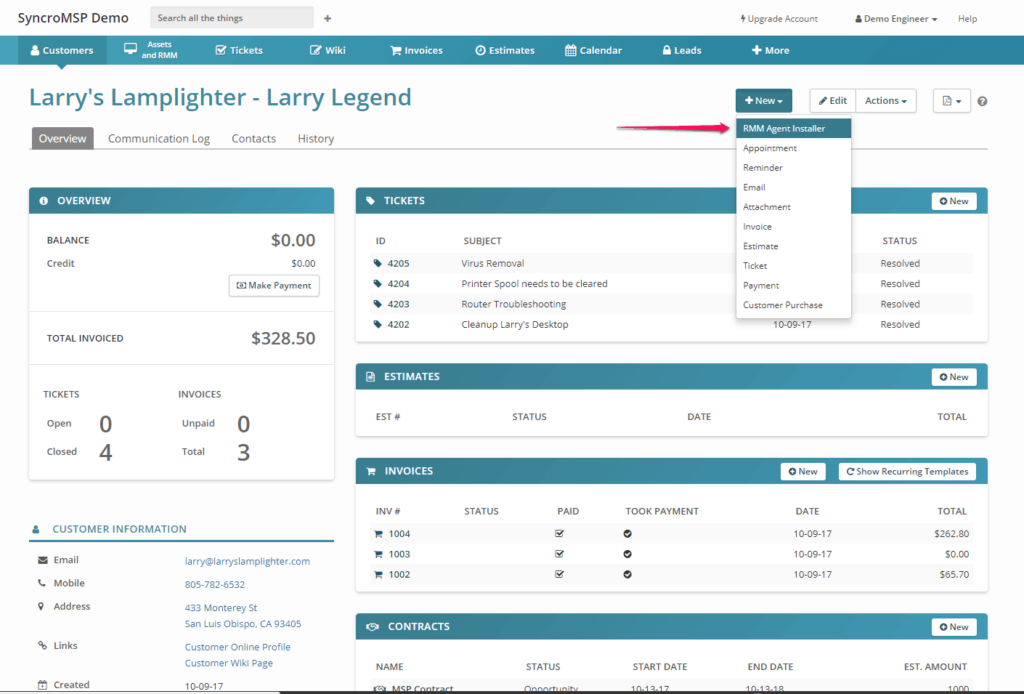 Our team thrives on feedback and we like to ship updates fast. Soon after hearing feedback about the RMM, we made a quick change to the interface (that's already live!) to make it more clear where RMM actions take place. We changed the 'Assets' tab to say 'Assets and RMM'.

Learn More about Syncro's RMM Capabilities in our New Help Center Article:

We have a great new article in the Syncro Help Center that provides detailed technical clarity about how Syncro's RMM works:

Syncro RMM Help Center Article
Syncro is evolving fast and we're shipping improvements daily. We're very grateful for your feedback so please keep it coming! Stay tuned to our blog for more updates! We'll be keeping you posted about new developments.
For questions and to submit ideas or feedback contact us at help@syncromsp.com

Cheers!
– The Syncro Team