The global market for managed services and MSP software is growing at an incredible pace. It was worth about $152 billion in 2020, and the latest report by Statista projects that it will grow to more than $274 billion by 2026. 
Undoubtedly, there are numerous opportunities (new clients) for managed service providers (MSPs). However, these new clients can only be gained through marketing, considering the fierce competition characteristic of the industry. Regardless of your MSP business, one of the MSP best practices is to employ a marketing strategy. Are you open to marketing your MSP business? Here is a comprehensive guide into marketing for MSPs, how it works, its importance, and tips on developing an efficient MSP marketing plan. 
What is MSP Marketing? 
MSP marketing entails promoting your managed IT services among your potential clients with the ultimate goal of making sales. Marketing an MSP isn't different than marketing any other B2B business. It utilizes the same marketing tools and strategies, including: 
Social media marketing 

Email marketing 

Paid marketing advertising (Google ads)

Inbound marketing 

Content marketing 

Word-of-mouth marketing 

Direct selling 
However, MSP marketing differs slightly from the standard B2B marketing tactics and funnels. Additionally, each MSP's marketing strategy should be customized and personalized according to its unique needs and preferences. 
The Difference between MSP Sales & MSP Marketing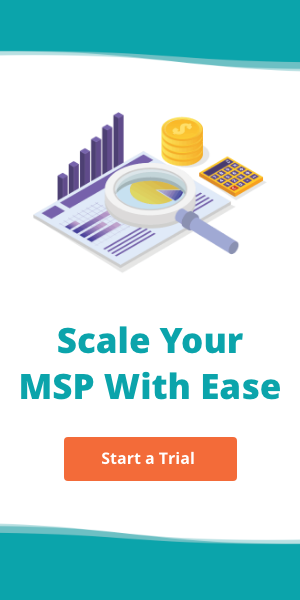 The terms MSP marketing and MSP sales are usually used interchangeably, giving the false implication that they mean the same thing. However, while there is a distinct difference between these two concepts, they are interdependent – essentially, one cannot work without the other. 
MSP marketing refers to the process of creating awareness about your managed IT services brand among potential clients. It is worth noting that MSP marketing is not sales-oriented, which would entail focusing on the technical details of your services. Instead, it is information-oriented, which entails educating your target audience about how your managed IT services can help their business. 
MSP sales entail getting your potential clients to buy your managed IT services. It is the ultimate goal of MSP marketing, and it should tie into the MSP marketing plan seamlessly if you have an efficient marketing strategy. It involves signing the potential client up, providing the requested services, and billing them. This is where understanding the MSP sales funnel and lead generation will be critical.
Essentially, MSP marketing and MSP sales play out like a front-end and back-end process. MSP marketing is the front-end part of the process where you put in all of the hard work, while MSP sales is the back-end part of the process where you get rewarded for your marketing efforts by selling your services. 
The Importance of Effective MSP Marketing 
A recent study shows that approximately 44% of MSPs are worried that they will have challenges finding new clients and retaining existing ones. Unfortunately, it is impossible to grow your company without new clients, and you will go out of business if your existing clients leave. MSP marketing is designed to prevent this and essentially paves the way for your business to grow and expand. 
In particular, both traditional and digital marketing techniques are important for MSP marketing. Traditional marketing tactics such as word-of-mouth marketing have a powerful impact on the audience, but they are limited in their scope and reach. The managed services industry is global, and you need marketing techniques that can reach your audience wherever they may be, necessitating internet/digital marketing. 
Common MSP Marketing Phrases 
MSP marketing is a vast niche within the MSP and marketing industries, and it even has its own unique lingo. Some of the terms and phrases used in this niche may confuse a novice. Here is an overview of these terms and their meanings: 
Leads:

Essentially, a lead is a potential client. Leads are the people that are interested in your managed IT services through your MSP marketing. The efficiency of your strategy depends on if that lead turns into your next potential customer.

Lead Generation:

Lead generation refers to the process of acquiring potential clients (leads). Essentially, lead generation is the initial phase of MSP marketing. 

Lead Qualification:

Some of the leads generated through marketing may not be interested in your brand. Lead qualification refers to the process of narrowing down your leads to those that show the greatest potential of becoming clients. 

MSP Inbound Marketing:

Inbound marketing is based on content marketing, whereby you create valuable content and post it on platforms where your target audience can see it. MSP inbound marketing entails developing content that educates your audience about managed IT services and their benefits (not sales-oriented). 

MSP Outbound Marketing:

MSP outbound marketing entails advertising to as large an audience as possible without considering targeted or qualified leads. Common outbound marketing channels include TV adverts and cold calling. 

MSP Email Marketing:

This technique utilizes emails to communicate with your target audience. It is one of the most direct and efficient forms of digital marketing.  

Call-to-Action (CTA):

This is a sales pitch prompting the audience to take actions such as signing up for a free trial or upgrading to your premium MSP services. Phrases such as "get in touch today to learn more" or "click here to sign up" qualify as CTAs. Ideally, CTAs should be backed by an easy and quick onboarding process. 
Developing the Ideal MSP Marketing Plan: What to Include 
An efficient MSP marketing plan comprises two main components: the overall marketing strategy and the marketing tactics you will use to implement the said strategy. The marketing strategy is comprised of three main components:  
Target Audience – What type of business do you intend to speak to through your marketing campaign? 
Message – What is the information that you intend to send out to your target audience, and is it relevant to their needs and preferences for managed IT services? 
Channel – Which platforms will you use to communicate with your target audience (in other words, which marketing tactics will you use)? 
Ideally, your marketing strategy should cover everything involving your planned marketing plan. The section below covers the recommended, reliable MSP marketing tactics. 
Efficient MSP Marketing Techniques 
MSP marketing isn't different from any other form of B2B marketing, and there are dozens of tactics to use. Here is an overview of three of the most efficient MSP marketing tactics: 
Search Engine Optimization (SEO) – 93% of all online interactions begin with a search on search engines such as Google. Additionally, the top-ranking website on Google's SERPs receives about 40% of all traffic, while the second and third get about 18% and 10%, respectively. These statistics demonstrate the importance of ranking high on Search Engine Results Pages (SERPs), and Search Engine Optimization (SEO) is the best way to do this. 
SEO involves improving every aspect of your online platforms and the content therein to meet Google's standards. SEO utilizes many other marketing tactics, especially content marketing and website design. 
Website Design – Website design entails improving your website's fundamental and technical aspects. For example, the website should load quickly, be responsive to different devices (mobile and PC), and have a neat outline that is simple to navigate. The website should contain informative content that answers your visitors' questions before making your sales pitch. It is also worth noting that website design is an integral component of SEO. 
Email Marketing – Out of all the digital marketing strategies, email marketing is still one of the most efficient marketing tactics. It entails sending emails to the potential leads on your

audience segments

with two primary intentions: educating them about the value of your services and prompting them to take action. The intended action may range from signing up for your free trial to upgrading to premium services. 
Besides content, timing and frequency are also integral aspects of email marketing. The idea is to send the right number of emails at the most opportune times – you shouldn't send so many emails that you come off as a nuisance, and you shouldn't send so few emails that your audience forgets all about you.