In a highly digitized and globalized world, running a successful MSP (managed services provider) business isn't just about providing quality services – it's about staying ahead of the curve and anticipating your clients' needs. 
As new technologies, operating paradigms, and business models shape the IT landscape, you must continuously adapt your practices to remain competitive. Fast and reliable IT support has become the norm, rather than the exception, and clients are increasingly expecting more value-added services from their MSP tools. 
Unfortunately, it can be challenging to know where to start with a myriad of challenges in establishing a successful MSP business – from rapid cloud adoption to hiring the right team to scale up your operations. Worse, staying afloat and gaining a competitive edge in this rapidly-changing industry can be even more complicated.
But, fret not!
We've compiled a list of the top 7 MSP best practices that you need to know to run a successful business. By following these guidelines, you can ensure that you provide the best possible services to your clients and position your MSP for long-term success.
What is MSP Strategy?
As a managed service provider, it's important to retain and gather clients. That's why you should conduct different marketing efforts that fit into the MSP sales funnel. So, what is MSP marketing? Before we delve into the best practices, let's first look at what MSP strategy is and why it's crucial. Simply put, your managed service marketing strategy is the overarching game plan that you need to follow to achieve your business goals. 
It involves figuring out what services you want to offer, who your target market is, and how you will position your company in the marketplace. In other words, it's your roadmap to success. 
By having a well-defined MSP strategy, you can ensure that everyone in your organization is on the same page and working towards the same goal. It'll also be much easier to track your progress and make necessary adjustments along the way.
What Makes an MSP Successful?
While having a well-defined MSP strategy is essential, it's not the only factor that determines a company's success. To be successful, you must have several other elements in place, including:
A strong team of qualified IT professionals:

 A knowledgeable and reliable team is the backbone of any successful MSP. They are responsible for delivering quality services to your clients and ensuring smooth business operation. Ensure you take the time to hire qualified IT professionals who have the necessary skills and experience to get the job done.

Robust and reliable IT infrastructure:

 Your IT infrastructure is the foundation of your business and must be able to handle the demands of your clients. Investing in robust and reliable IT infrastructure is essential to ensuring the smooth running of your business. Without it, you'll quickly struggle to keep up with the competition.

Efficient and scalable operations:

 With the dynamic and ever-evolving IT landscape, your MSP must be able to adapt to change quickly. This means having efficient and scalable operations to add or remove services as needed easily.

A comprehensive understanding of the latest trends and technologies

: As an MSP, you must understand the latest trends and technologies. This will help you stay ahead of the curve and offer the latest services to your clients.
How Do I Become a Top Tier MSP?
With the MSP industry projected to hit a staggering $411 billion in 2027 with a CAGR of 10.2%, you must position your company for long-term success. But how exactly do you do that? By following the best practices outlined below, you can be sure that you're providing the best possible services to your clients and establishing yourself as a leader in the industry.
1. Diversify Your Services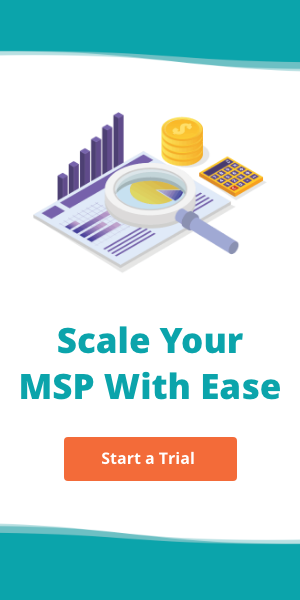 One of the best ways to stay ahead of the competition is to diversify your services. This allows you to offer your clients a wider range of services and tap into new markets. Instead of only offering traditional IT services, consider expanding your offerings to include cloud services, cybersecurity, managed print services, email security, remote monitoring, and other managed IT services. 
This will help you grow your business and position you as a one-stop shop for all your clients' IT needs. However, when diversifying your services, consider the needs of your target market and what they're looking for in an MSP. 
Are they after a comprehensive IT solution, or are they only interested in a specific service? Understanding your target market can ensure that you offer the services they need and want.
2. Focus on Quality Rather Than Quantity
Diversifying your services can be helpful, but don't go overboard with the managed security services you offer. Just stick with those you can conduct efficiently. More importantly, while it's tempting to go after every client you can, this is not always the best approach. Quality over quantity should be your mantra when it comes to clients. This means that you should only work with clients who are a good fit for your business and to who you know you can provide quality services to. 
By carefully selecting the clients you work with, you can avoid those who are only interested in a low-cost solution and focus on those looking for quality services. This will help you maintain a high level of customer satisfaction and reduce the chances of client churn.
3. Implement an Audit Trail
An audit trail is a critical component of any successful MSP. It helps you track and record all the activities in your business, from client interactions to system changes and billing. 
With a comprehensive audit trail in place, you can quickly and easily identify any issues that may arise and take corrective action. This is an essential best practice for MSPs as it helps to ensure the smooth running of your business and avoid any costly mistakes.
4. Use the Best Software
With fast and reliable IT services being the cornerstone of any successful MSP, it's essential to use the best software possible. This will help you deliver high quality services to your clients and maintain a competitive edge. 
When choosing software for your MSP, consider your specific needs and requirements. You don't want to invest in expensive software that you'll never use, or that doesn't meet your needs. Instead, focus on finding affordable software that offers the features and functionality you need to run your business effectively.
5. Adopt a Proactive Approach
A proactive approach is always better than a reactive one when it comes to IT services. You should be proactive in your approach to problem-solving and not wait for problems to occur before taking action. 
By being proactive, you can head off potential problems before they cause any damage and keep your client's systems running smoothly. This is essential for any MSP provider as it helps maintain a high level of customer satisfaction and prevents any costly downtime.
6. Keep Your Clients Informed
One of the fundamental tenets of good customer service is keeping your clients informed. This means keeping them up to date on all the latest news, developments in their project, and any changes or updates to your services. 
By keeping your clients in the loop, you can ensure that they're always aware of what's going on and happy with their project's progress. This also helps build trust and strengthens the relationship between you and your clients.
7. Train Your Staff Adequately
Your staff is the face of your business, and as such, it's crucial to ensure that they're adequately trained. They should be knowledgeable about your products and services and be able to answer any questions your clients may have. 
Additionally, they should also be familiar with your company's policies and procedures so that they can provide high-quality customer service. With well-trained and motivated employees, you can be confident that your clients will receive the best possible service and that they'll be happy with the results.
Stand Out From the Competition with Syncro
Maintaining a successful MSP business can be tricky, but with the right tools and strategies, you can set yourself apart from the competition and ensure long-term success. Syncro is an all-in-one cloud-based MSP software that helps you manage your business effectively and efficiently. 
With Syncro, you can easily track your clients, staff, and services and manage your MSP billing and finances in a central place. Additionally, Syncro offers a range of features and software integrations that make it the perfect choice for any MSP. 
To learn more about Syncro and how it can help you stand out from the competition, schedule a free demo or sign up for a free trial today.