Running a managed service provider is hard—harder than a lot of other businesses, in fact.
Technical problems don't confine themselves to business hours, and when a client's business is reliant on technology to run, every glitch can feel like an emergency worth yelling at you for.
Add constant and ever-increasing cyber risks, and some days it's all you can do to keep your head up. (I feel you, seal.)
That's exactly why taking a break from it all is so important.
Time off: 0 days
Read any Reddit thread or Facebook discussion on MSPs and vacation time and invariably you'll find a bunch of jokers:

You guys get vacation?
Vacation? What's that?
Yeah, I had a day off. Once. 5 years ago.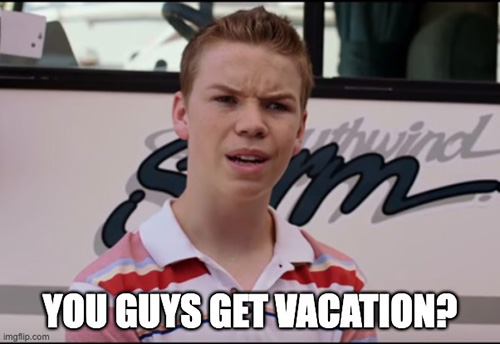 The jokes hit hard because for many MSP business owners they're true. They haven't had any time away from the business in many months or even years.
That, however, is a sure path to burnout, along with an array of physical and mental health issues.
I know you know all this. But I'm saying it again because it's really important: You need to take time off from your MSP to protect yourself, your business, and the people around you. And it needs to be real time away, where you unplug both figuratively and literally from the demands of work.
If you're waiting for permission to take a vacation from your MSP business, I hereby grant it.
If you need some help figuring out how to step away from your business for a break, that's what this post is all about. Keep reading.
How to take time off from your MSP
Ease into it
If you've never taken any time off from your MSP before, you may want to test the waters with some shorter, local breaks.
These experiments can help you understand how it feels to be away, how your clients react, and how to deal with issues that might crop up.
For example, you might plan your breaks around holiday long-weekends so you can get five days off but only be away for two business days.
If you stay at home or travel only a few hours away, and make sure you have internet access wherever you go, it can help calm fears that disaster will strike and you won't be able to respond.
All of this can help build your confidence in taking longer vacations. It can also point you to gaps in your coverage plan that can be shored up before going on a longer trip.
Book your backup
You'll want to arrange for somebody to handle your client support while you're gone. Don't try to step away, thinking you can be on call to handle anything "really urgent."
You know your clients. You know how technology works. Chances are good, you'll be getting calls throughout your vacation—which means you'll end up with no vacation at all.
As a solo operator, you have a couple of options for lining up these backups.
Partner with another MSP
Asking another MSP to take on your client calls while you're away is probably the most popular option for ensuring you have backup.
Find another MSP of your size and trade coverage. You cover for them when they go away, they cover for you. Look for companies that use the same PSA and RMM tool as you so that the pickup is smooth.
If the MSP is a bit bigger than you, you might need to pay them. (Bonus: If your exit strategy is to eventually sell to a bigger MSP, then developing a relationship like this can pay dividends down the road as they get to know you and your client base.)
Where to find someone to partner with? Networking groups like The Tech Tribe or Facebook discussion groups like the IT & MSP Business Owners group and IT/MSP Entrepreneurs are a great place to start.
Hire an outsourced help desk
Companies like GMS Live Expert and Mission Control offer fully outsourced help desk and NOC services, and are a great way to get worry-free client coverage while you're away.
Incidentally, they can also be a great way to expand or supplement your service even when you're in the office so the full burden isn't always on you.
The key to making these outsourced relationships work is to have clear and comprehensive documentation on your processes that you can share with their teams.
Hire a subcontractor or freelancer
When a full help desk on call might be overkill, you can always look at a single subcontractor or freelancer. Just like looking for partner MSPs, you can find subcontractors by putting the call out in MSP communities and forums.
If you think you'll need on-site coverage while you're on vacation, consider making arrangements with a dispatch tech service like Field Nation or a local freelance resource.
MSP Jesse Perry recently took a stress-free vacation by layering his backup. First, he lined up a tier 1 subcontractor out of state that he trusted to be client-facing. This tech could handle calls, ask questions, and solve simpler problems.
On top of that he paid a local freelancer to be on call. "It was literally just a retainer to answer the phone if I or my sub called, drop everything and go onsite within a two-hour time window."
Even though the freelancer was never dispatched, Jesse said knowing that he was there was worth every penny of the retainer because "during that vacation I was totally without a care. I literally paid $1,000 for zero stress."
No matter what, you'll want to vet any potential partners carefully and dig into expectations on both sides.
Communicate clearly with your clients
Tell your clients well in advance of your vacation plans. Let them know you'll be unreachable and who to contact if they have an issue.
You can, of course, give them your contact information to use in an emergency but this isn't recommended. They will use it. Better to train clients that you'll be offline and that any questions should be directed to your backup.
It can also be a good idea to review your SLAs with clients, including issue classification list, to go over what constitutes an emergency and what might be able to wait until you're back.
It can be done
By now, I hope you see that taking a vacation from your MSP business is absolutely doable, even in the early days.
It does require planning and time, though. Time to develop and document processes, time to build relationships with backup contacts, and time to get comfortable with the idea of letting go for a few days.
If you have none of these structures in place, now is the time to start building them. You can do it! And that day when you finally kick back without a (business) care in the world, it all becomes worth it.