"Success is 20% skills and 80% strategy. You might know how to succeed, but more importantly, what's your plan to succeed?"
– Jim Rohn
A well-defined strategy can drastically improve an MSP's chances at profitability, and a solid MSP business plan can help you define and quantify your strategy. Just how important is planning? Stats and research aggregated by Bplan indicate that companies that plan grow 30% faster and planning before starting marketing efforts reduces the likelihood of failure.
To help you build an effective MSP business plan, in this article, we'll take a deep dive into what MSP business plans are, how you can create one, and key considerations for MSPs throughout the process.
The importance of an MSP business plan
An MSP business plan is a key enabler of a profitable MSP business. After all, if you're not strategic about how your MSP business model will work, it's harder to stay focused on what really matters.
For example, a common pitfall for MSP business owners with a technical background is being too focused on their technical capabilities and offerings. Whether or not your business is profitable isn't solely determined by how technically capable you are. Your technical capabilities are just one input to the equation. An MSP business plan helps you strategically structure your business, target customers, set prices, and drive profits.
Essential components of an MSP business plan
Now that we know what an MSP business plan is, let's jump into how you can go about writing an effective MSP plan. The points below breakdown typical components of an MSP business plan, including what each should cover and tips for getting it right.
You can modify the sections as needed and use this breakdown along with resources like the Small Business Association's templates to create an optimized plan for your business.
Executive summary
The executive summary is a short and sweet section that should hit all the high points related to your business and how it will make money. Think about this like your elevator pitch to a business executive or the first two minutes of a Shark Tank pitch.
Key points to include in an executive summary are:
Mission statement
Primary business goals
Services offered
Company size
Target market
Financial and growth plans
Business description
This section of an MSP business plan details your strategic goals and value proposition. In the business description section, explain your competitive advantages and detail how you will solve problems for your target market.
This is also where you'll explain the structure of your business and team composition. For example, will you be a sole proprietorship, limited liability company (LLC), S-Corp, or some other business type? Are you a one-person team or will multiple departments and contractors be involved?
Competitive analysis
The competitive analysis section of a business plan describes the market your MSP will operate in, other firms you'll compete with, and how your business will differentiate itself. This section of your plan should demonstrate why your business is viable and answer questions such as:
What is your total addressable market (TAM)?
Who are your target customers?
What other businesses are competing for those customers?
Why will those customers choose you over alternatives?
Operational plan
The operational plan section of an MSP business plan details the day-to-day activities that will enable you to execute your plan. This is where you will answer many tactical questions about your business, including staffing, infrastructure, location, and processes.
Think about your strategic goals as you build this section, and focus on answering questions like:
What processes will you put in place?
Who will execute the processes?
What software and hardware will you use?
Where will you operate?
How will you measure quality and effectiveness?
As you create your operational plan, avoid getting lost in the details. This section is about day-to-day operations and tactics, but everything should still have clear alignment with your strategic goals.
Financial plan
This is the section of your business plan where you detail key MSP KPIs (key performance indicators) to compute your projected expenses, revenue, and profits. MSP KPIs that are likely to be relevant include:
Monthly recurring revenue (MRR)
Cost of goods sold (COGS)
Average deal size
Customer acquisition cost (CAC)
Client lifetime value (CLV)
You should also include details on managing expenses, assets and liabilities, and payroll. Accounting deliverables like cash flow projections and balance sheets help support the content here, and you should consider including them here or referencing them in the appendix.
Marketing plan
MSP marketing is a big driver of overall MSP success. The marketing plan section of an MSP business plan explains how your business will market itself. This section takes a deep dive into customer acquisition costs, customer lifetime value, and marketing strategy.
For example, your marketing plan section should describe whether your business' marketing strategy focuses on SEO (search engine optimization), digital advertising, physical advertising, or some other mix of marketing channels. It should also include the KPIs, like CAC, CLV, cost per lead, and total cost of sales and marketing you'll use to measure success.
Appendix
Your business plan should be data-driven, and the appendix is where you can cite the sources and calculations that support the rest of your plan. Items that are often included in a business plan appendix include:
Financial reports
Projections
Licenses
Legal documents
Resumes or backgrounds for leadership team members
Contracts
Five considerations for your MSP business plan
As you build your MSP business plan, you'll invariably encounter interesting questions and challenges. The five tips below can help you address them, create an optimized plan for your situation, and avoid common pitfalls.
1. Conduct a SWOT analysis
A SWOT (strengths, weaknesses, opportunities, and threats) analysis is an exercise that can help you think deeply about your MSP business model. It can also help you validate or reject your assumptions about your business and strengthen your overall plan. By conducting a thorough SWOT analysis, you can identify competitive advantages you should lean into as well as risks to mitigate.
You can perform a SWOT analysis by filling out a straightforward 2×2 grid that groups your strengths, weaknesses, opportunities, and threats. Here are the questions to answer for each quadrant: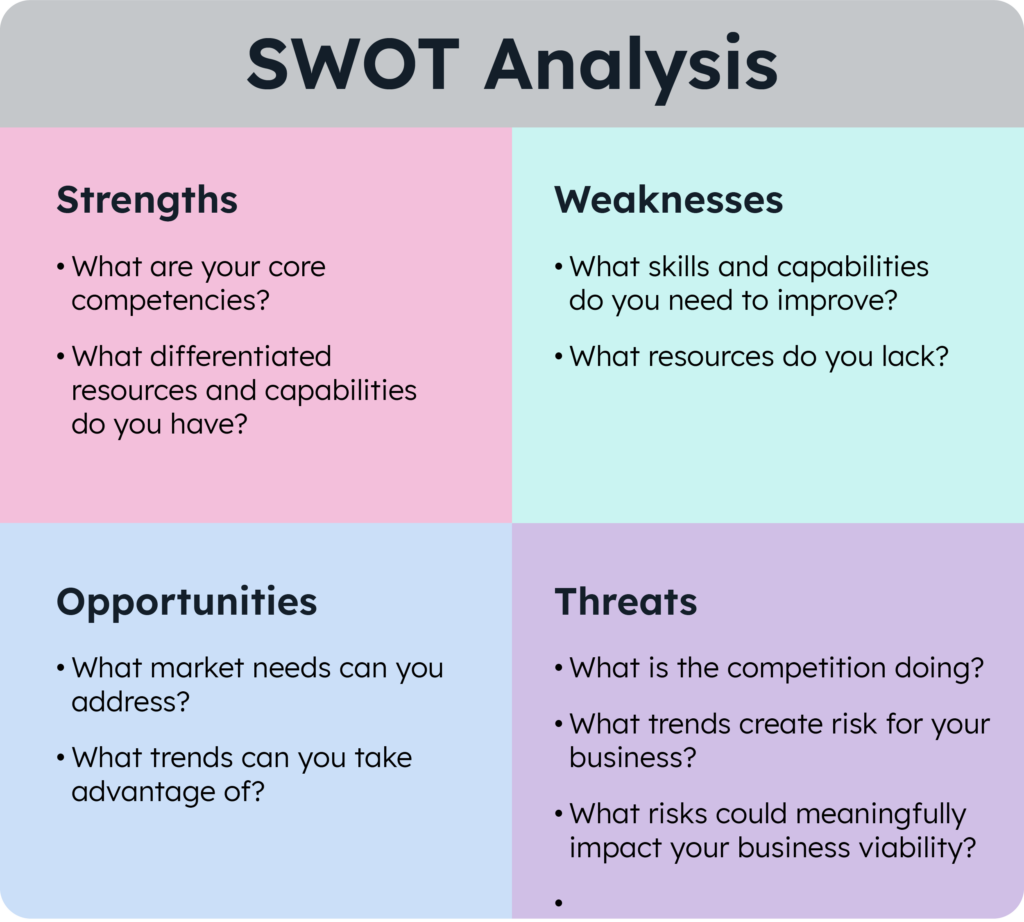 2. Prioritize marketing
A marketing funnel that enables you to profitably acquire your target customers is essential to a profitable MSP business model. Make sure to emphasize marketing as you create your business plan and go-to-market strategy. This means understanding your target customer personas, how you can reach them, and what motivates them to become a customer.
Measuring marketing effectiveness is important here. There's no one-size-fits-all answer, but a 3:1 CLV:CAC (customer lifetime value to customer acquisition cost) ratio is a good ballpark range for a solid marketing funnel that can enable a profitable business.
3. Incorporate a security strategy
Cybersecurity is essential to just about every business today. As an MSP that is a trusted advisor to your clients, you should consider how security plays into your business model. For example:
Will you market yourself as an MSSP with a security focus?
Will you offer specific security services?
Will you partner with specific cybersecurity vendors?
How you answer these questions will directly impact your MSP business model, marketing strategy, and business plan.
4. Focus on customer service
Customer retention is the flip side of the customer acquisition coin. You can't run a profitable business if you lose too many customers too fast. If you can delight and retain your customers, you can increase CLV and profitability. Further, an MSP with a reputation for excellent customer service can create differentiation and generate word-of-mouth referrals that help you grow.
Build an MSP business model that emphasizes customer service and reduces your risk of unnecessary churn. Also, don't be afraid to fire clients when it makes business sense.
5. Be open to new opportunities
"Plans are useless, but planning is essential"
– Dwight Esienhower
An MSP business plan is an excellent strategic tool that can set you up for long-term success. However, you shouldn't let your plans today prevent you from being agile and open to new opportunities as they arise.
As an MSP business leader, you must balance staying the course and adapting when it makes business sense. Treat your strategic plans as living documents and be willing to exploit new opportunities as they arise.
Empower your MSP business with Syncro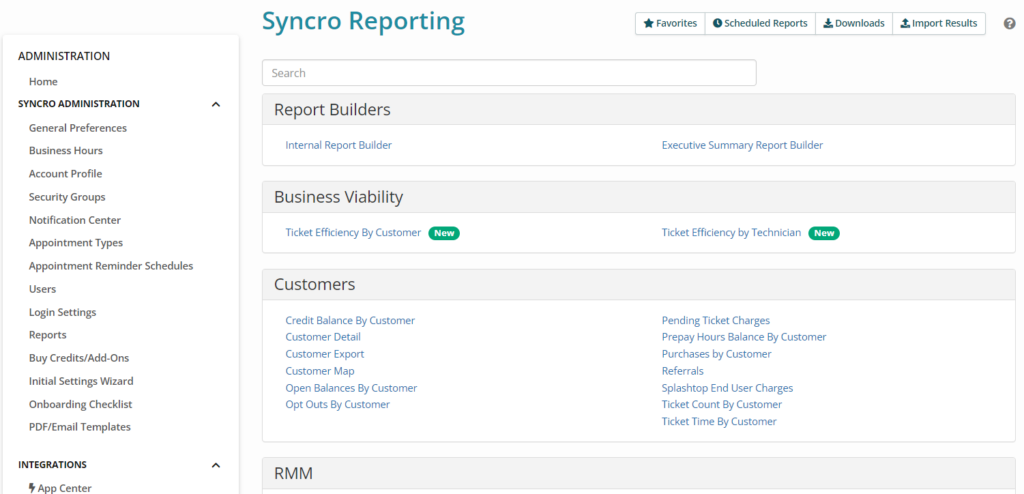 Syncro is fully integrated PSA, RMM, and remote access platform purpose-built to help MSPs run more profitable businesses.
If you'd like to see what Syncro can do for your business, sign up for a free trial today!