Backgrounding Tools for MSP Network & System Monitoring Software
Every MSP knows that no RMM is complete without a competent and complete set of Backgrounding Tools. Backgrounding Tools extend your eyes and ears so that you can be in multiple places at the same time.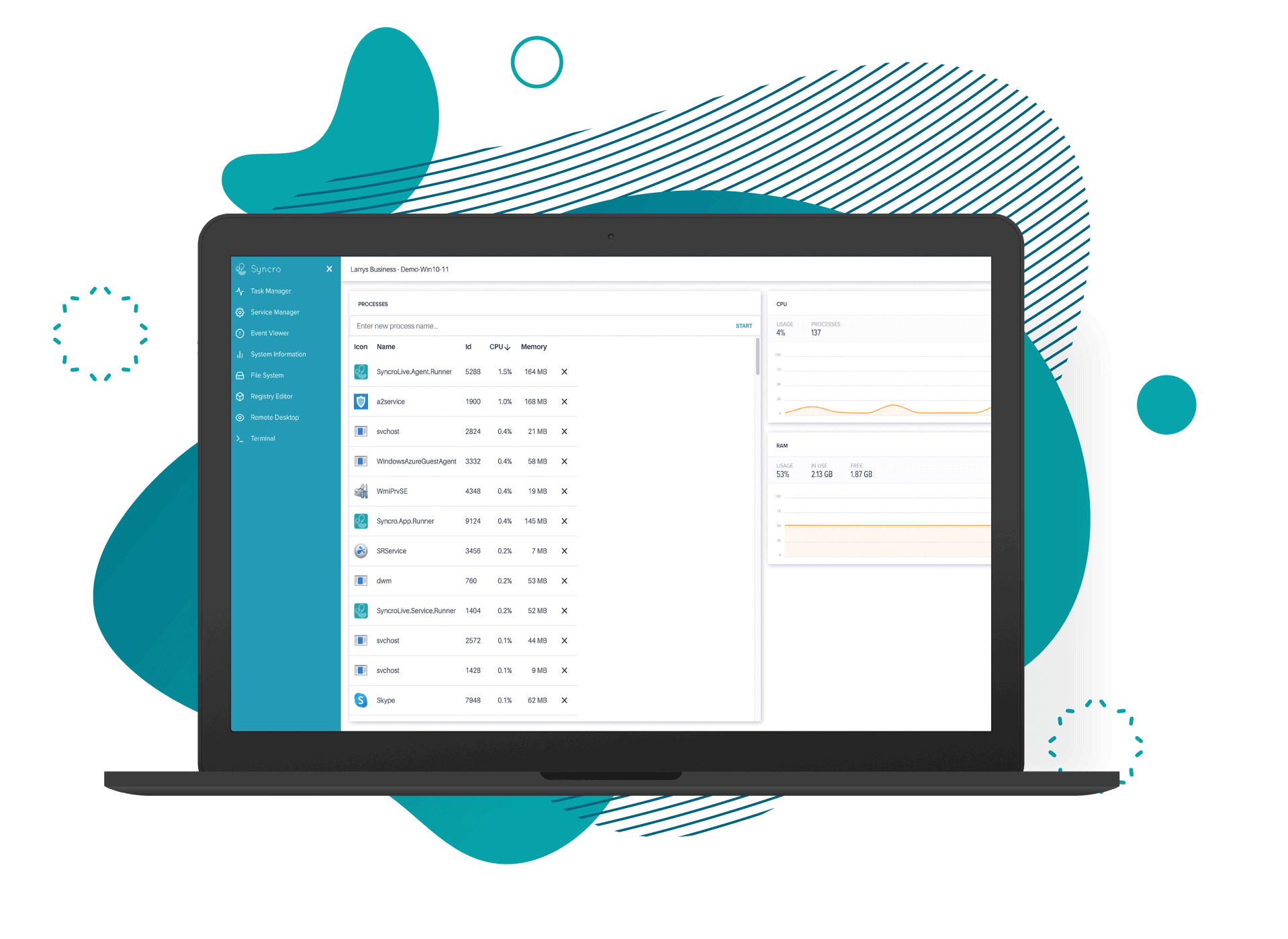 We've Got Your Back
Keep a pulse on your clients' systems and devices without disturbing their work with Syncro's advanced Backgrounding Tools, such as remote PowerShell commands, event log access, a remote file browser and more. It's as if you're in multiple places at once – bringing peace of mind to you and your clients.
Command Prompt
Nothing beats the good old Command Prompt. It's simply faster and more efficient than drilling into endless GUI windows and menus. 
Event Viewer
Syncro offers full access to an asset's Event Log. Full access doesn't just mean flipping through thousands of pages of events. It means full text searching, filtering, and sorting of relevant events.
File System
Delving into a file system behind the scenes can be an extremely important task if your MSP platform allows for it. Syncro offers a fully featured remote file browser giving you access to virtually every native file function you could ever imagine.
Experience the Power of a Truly Integrated MSP Platform
Powershell
Imagine how much power you could inject into your scripts if they could pull data from other areas of the platform, like customer, contact, and asset records. With Syncro, you should expect no less. Use values from any field, even custom ones, as script variables.
Services Manager
Manage your assets services in a breeze with our remote Services Manager. See a full list of the running services. Stop, start, and restart services, and use our plain-text filters to quickly find the exact service you are looking for. 
Task Manager
No remote toolkit is complete without access to an asset's Task Manager. See CPU and Memory in real time, filter processes by their CPU and memory usage, and kill processes with the click of a button.
"Syncro is the modern RMM/PSA you need now."

Steven Grabowski
Owner
SoHo Integration, LLC
"The Syncro team is pounding out code and features week after week…and listening to their clients. As far as my experience has been, they have been far better with customer interaction, support, communication than any of the RMM's I've worked with."
Get a started with a fully-featured free trial today to experience our automated solution.